Free Apps Can Waste 75% Battery Life Tracking Users & Serving Ads
Study shows why it's worth it to buy paid versions of an app.
Time Magazine noted a study about Android and Windows Mobile power usage:
"A new study conducted by researchers at Purdue University found that 65% to 75% of the energy used by free apps is committed to user tracking, downloading ads and uploading user information. That means only 25% to 35% of the energy is used for performing tasks like, you know, actually running the app's core function."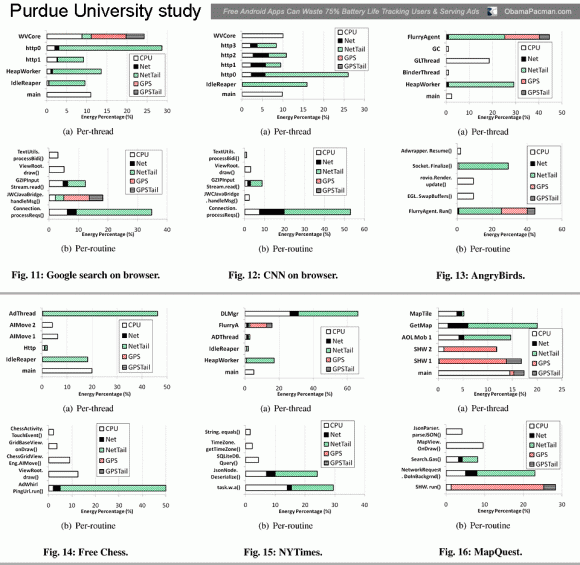 ObamaPacman read the report (PDF, 1.7MB from Microsoft), and noticed that:
A popular Android Chess app can consume as much battery power as turn-by-turn GPS navigation app
Angry Birds Android adware uses only 18% of energy for core functions. 72% energy used was for GPS, 3G, and ad downloads.
Google Search on Android uses as much battery as playing Angry Birds, 30 seconds uses about 0.35% battery
In contrast, iOS version of Angry Birds does not ask for location data because they knew iOS users won't allow it. Since Apple requires apps to get user op-in for to access GPS data, most iOS apps do NOT track users. But Android users are fair game.
What about just buying apps? iOS users can easily buy ad-free apps from the App Store. But the primary business model of Android Market / Play Store is adware because people don't want to pay for apps on the "open" platform. In addition, Google made it difficult for small developers to create paid apps due to high admin and high support costs (developers have to pay taxes in each individual region the app is sold, and nevermind the high support costs of the fragmented platform – people feel more entitled to support if they paid for apps).

Related Posts