"Draw Something" Designer & OMGPOP CEO Dan Porter: Mac + iPhone User
What does rock climbing and "Draw Something" have in common?
OMGPOP CEO Dan Porter interviewed by Gigaom last week about their hit game:
Draw Something is the first game that Porter has ever designed.[...]

Porter said the spark for the design goes back to simpler things like playing catch or rock climbing, cooperative activities that don't declare a winner. That's been been part of the success of Draw Something, emphasizing social interaction over game mechanics.

"We're taking game play and wrapping it in the framework of communication, sharing experiences and playing together," he said. "I just wanted this to be something hilarious with no winner or loser. You think of party games like Charades. There's an aspect of that I was trying to capture."
With over 30 million users, Draw Something players are exchanging pictures at around 2,000 to 3,000 per second. The company is earning six figures of revenue per day after App Store fees. Zynga is paying $210 million to acquire OMGPOP.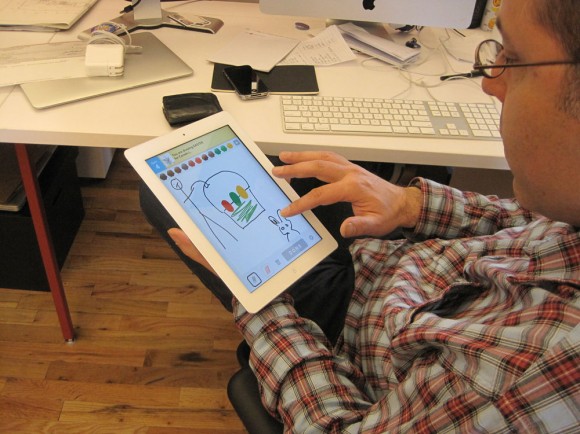 Photos by Ryan Kim of Gigaom. First photo shows the OMGPOP CEO holding his iPhone and has an iMac, MacBook Air, and MacBook Pro (under desk, left) within his easy reach. Second photo shows the Draw Something designer using an iPad to demo the hit game. He seems inseparable from his iPhone.

Related Posts