iPad 3 Hot! Wait, It's Only Warmer: Consumer Reports CNBC Video Summary
See how many times Consumer Reports' Paul Reynolds said iPad 3 is hot on national TV… and then flip flops.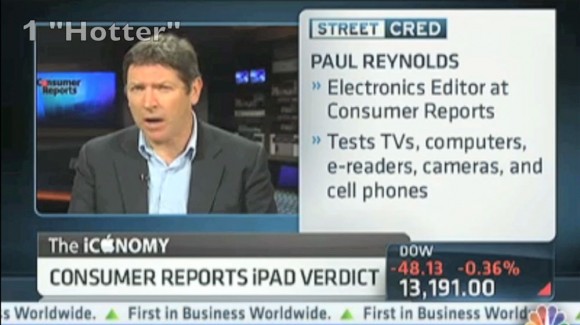 Video: iPad 3 Hot – Consumer Reports CNBC
Highlights of the Consumer Reports' "iPad 3 uncomfortably hot" announcement on CNBC. No portion of the video was duplicated:
"Hot enough to be uncomfortable"
"Hotter on the hot side, hotter…" (Yes, Reynolds used variation of 'hot' 3 times in one sentence)
At one point, CNBC displayed graphic "iPad too hot to handle"
After saying hot / hotter 7 times, Reynolds made a flip-flop and said "warmer" 4 times, the final time he just had to point out that the new iPad is "warmer"
What about the safety of the hot / warmer new iPad? "Not temperatures that are likely to cause any harm."
Here's the full 6 minute video from CNBC, aired on March 21, 2012:
Yellow journalism or just copying Mike Daisey?
We can only imagine how Consumer Reports tested iPad 3.

Related Posts