Consumer Reports Contradicts iPad 3 "Uncomfortably Hot" Report
Consumer Reports: new iPad 3 can get up to 13F / 7C, "significantly hotter" than iPad 2. But the publication contradicted itself.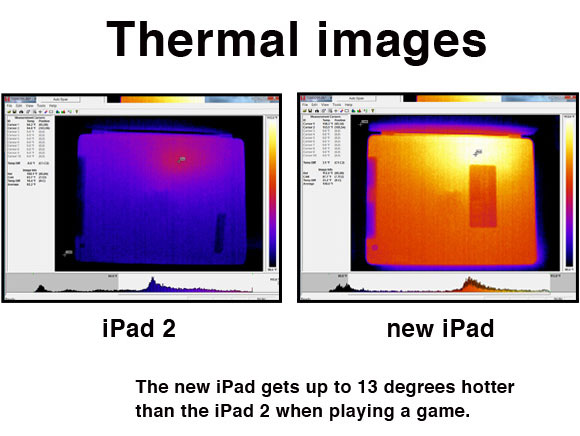 Consumer Reports went online to look for potential iPad 3 issues and announced yesterday:
"Using a thermal imaging camera, Consumer Reports engineers recorded temperatures as high as 116 degrees Fahrenheit on the front and rear of the new iPad while playing Infinity Blade II."
The publication mentioned:
"numerous complains now cropping up about how hot the new iPad can get"
The publication went on CNBC to say the new iPad is "uncomfortably hot":
"That's hot enough to be uncomfortable at least," Paul Reynolds, Consumer Reports electronics editor, said it a live interview.
However, as Instapaper creator Marco Arment wrote in "Consumer Reports sensationalism", the Consumer Reports' own press release tells a different story:
"During our tests, I held the new iPad in my hands. When it was at its hottest, it felt very warm but not especially uncomfortable if held for a brief period." – Donna L. Tapellini
Read again: "it felt very warm" at its hottest.
ObamaPacman adds: 116F is 46.6C, which is under the safe hot water temperature of 49C at the tap recommended by the NIH.
Buried in the sensational Consumer Reports article is the mention that the "very warm" spot is "concentrated" near a corner. Where is the warm spot? It's near the 12.82 MM by 12.71 MM (0.5 inch by 0.5 inch) Apple A5X processor with its powerful quad core GPU.
The rest of the iPad 3 is lukewarm.

Related Posts