Beautiful iPad Sketching App: "Paper for iPad"
Penultimate, Sketchbook Pro, and Bamboo Paper are getting some competition.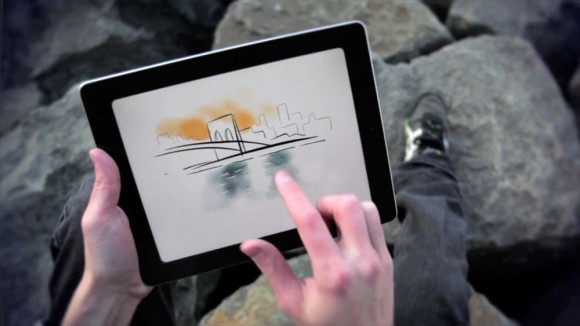 Video: Paper by FiftyThree, iPad App
Paper for iPad [App Store] by FiftyThree is a new and really amazing iPad app created for anyone who want to draw or sketch. The app is a free download for iPad.
Features include:
Algorithm that makes beautiful lines
Multiple line thickness depending on how you draw it
2048×1536 Retina display canvas
2 finger multi step undo / redo (two fingers on canvas, dial counterclockwise / clockwise)
It comes with one virtual pen. Additional pens / papers are available through in-app purchases for $1.99 each or $7.99 for all of them. Neat feature: you can try the pens out before you buy. More apps should include this.
There is no zooming, but the developer said new features are coming soon.
iPad stylus shown in the video is the Wacom Bamboo stylus [Amazon $29.99
]. The app of course works with your fingers too.

Related Posts