Assassin's Creed in Real Life [Made on Mac]
Great short film. Plus behind the scenes videos that explain how they shot the Matrix bullet-time effect with one camera + other VFX.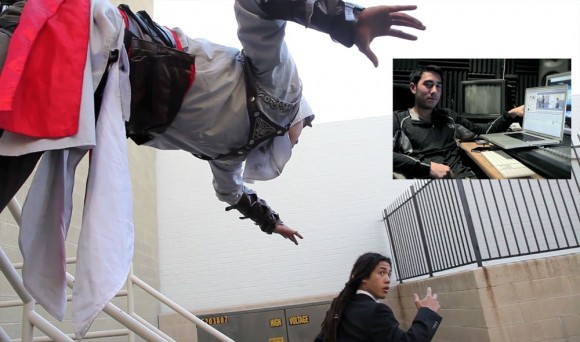 Video: Assassin's Creed in Real Life
Video by Zach (aka Final Cut King) with complex effects by The Vfx Bro. Zach did his own stunts, just like Tom Cruise in Mission Impossible. Here's the car jump:
Looks dangerous for Zach, who is the actor, director, stuntman, and cameraman.
How to: Shoot Bullet Time Effect with 1 Camera
Zach explains the 1 camera Matrix effect and how he's seen free running up the wall in the modern Assassin's Creed video.
Video: Multi-Floor Car Jump Video Effects
The VFX Bro explains the multi-floor jumping sequence. Hint: Mac, After Effects, green screen, rotoscoping, and physics equation.
Amazing. You don't need to be fellow iPhone + iPad user Michael Bay to have great special effects.
[Final Cut King and The VFX Bro]

Related Posts