Apple Updates iPhoto + GarageBand Apps for Mac
iPhoto '11 for Mac updated to 9.2.2 and GarageBand to 6.0.5.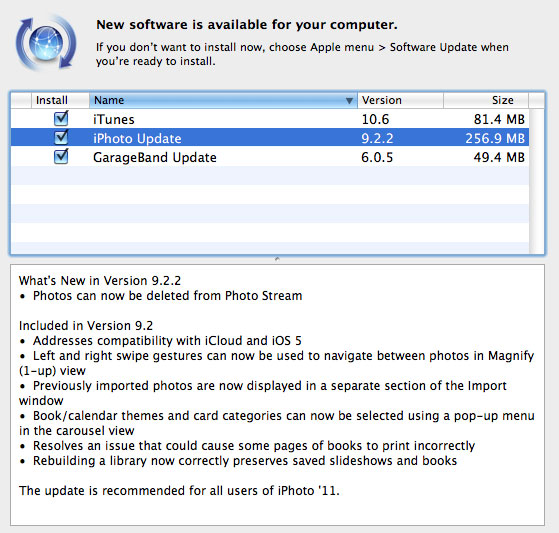 Apple introduced universal iPhoto App for iOS and updated GarageBand and iMovie apps yesterday.
Today, Apple released the companion update to iPhoto '11 for Mac:
What's New in Version 9.2.2

Photos can now be deleted from Photo Stream

Included in Version 9.2

Addresses compatibility with iCloud and iOS 5
Left and right swipe gestures can now be used to navigate between photos in Magnify (1-up) view
Previously imported photos are now displayed in a separate section of the Import window
Book/calendar themes and card categories can now be selected using a pop-up menu in the carousel view
Resolves an issue that could cause some pages of books to print incorrectly
Rebuilding a library now correctly preserves saved slideshows and books

The update is recommended for all users of iPhoto '11.
GarageBand for Mac update:
This update supports general compatibility and addresses overall stability and performance, including the following:

Updates compatibility with GarageBand for iOS projects
Fixes a playback issue with the GarageBand Lesson preview videos
Corrects issues with some software instruments triggering incorrect or stuck notes
Apple also released iTunes 10.6 for Mac and PC yesterday to support 1080P HD movie content.

Related Posts