Apple Rejects "Voice Answer" From App Store Due To Siri Similarities
9 to 5 mac is reporting that Apple has rejected the app in the video above, Voice Answer, due to similarities to its own Siri feature. Apple is apparently, however, working with similar apps such as Evi [App Store] to work out any conflicting similarities between the app and its iPhone 4S's flagship feature.
Voice Answer is an app would that would run on all devices with iOS 4.2 and up, while providing spoken answers with optional keyboard input, and configurable items stored in the app's memory, and Jordan Kahn for 9 to 5 mac reports:
According to the developer, Voice Answer's "speech recognition works better than that of Siri, especially with foreign accents," and the app includes a chatbot called "Eve" that you can teach answers. While most of these features are also baked into Evi, it is unclear exactly why Apple is working with some developers to coexist peacefully with Siri, and then flat-out rejecting others without discussion. It is clear that iOS users are interested in these apps. With the 99-cent-Evi sitting around 200,000 downloads shortly after release, and Siri currently limited to only the iPhone 4S, there is definitely a market for voice-powered assistants if Apple allows it. However, Apple's reasoning is vague for allowing some Siri competitors and rejecting others. An excerpt from Apple's rejection to Sparkling Apps and screenshots of the unreleased Voice Answer iOS app are below.
Voice Answer iPhone app screenshots: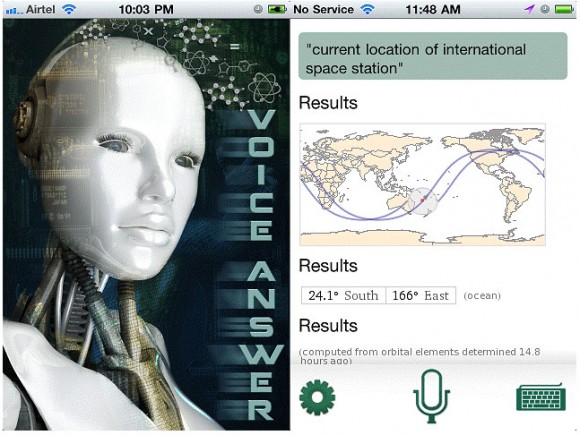 Well, I don't know about you, but as cool as the app is, I find looking at the promo video for 'Voice Answer' for any extended period of time to be a little bit on the creepy side. I would tend to think that she would get boring real fast. Maybe if they give her corresponding facial features, or expressions, to go along with her answers it would be a bit more appealing, but in the end, it's apps like Siri and apps it inspired that help to pave way for better and more sophisticated apps, even mind-blowing ones, so I hope that Apple and the developer can work out a solution so we'll see it in the App Store real soon.
---
Added by Editor
: Here are snippets from Apple's rejection letter. Vague or not?
"It would be appropriate to revise your app concept, app name, and marketing text to address these trademark issues.[...]

we found that your app includes a feature, or features, that mimic an iOS interface or behavior, which is not in compliance with the App Store Review Guidelines."

Related Posts