Apple Introduced iPhoto for iPad + iPhone [Download]
With iPhoto, Apple brought the whole iLife suite to iPad, iPhone, and iPod touch.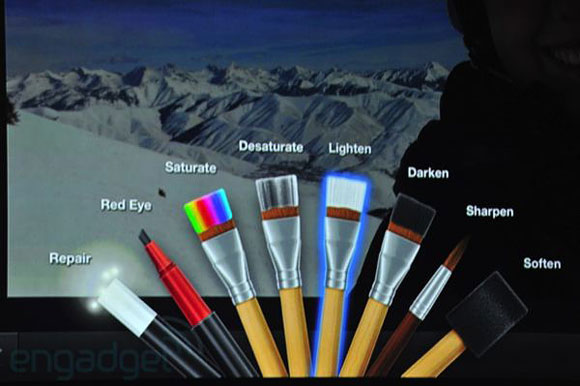 At the iPad 3 event, Apple new iPhoto for iPad and iPhone [App Store] was introduced by Randy Ubillos, Chief Architect for Photo and Video apps. Features:
Works with up to 19MP photos (demoed with 12-megapixel photo from a Nikon D300S)
"By double-tapping a single photo it compares all pics that look similar. The app finds them automatically."
Easily enhance photos:
"With one-tap he just straightened a horizon photo and, with another, it fixed the contrast."
"To tweak white balance, you just tap on what is skin and the app? automatically adjusts the balance."
Brushes, Effects
Photo Journals: create on iPad, published to iCloud, viewable through URL
iPhoto for iPad is $4.99, available later today.
Apple first introduced iMovie and Garageband then added iPhone / iPod touch support later. iPhoto is an Universal app for iPhone and iPod touch too.
[via engadget]

Related Posts