Apple 1993 iPhone Prototype W.A.L.T. Sold on eBay for $8000
Rare Apple W.A.L.T (Wizzy Active Lifestyle Telephone) touchscreen phone sold on the auction site.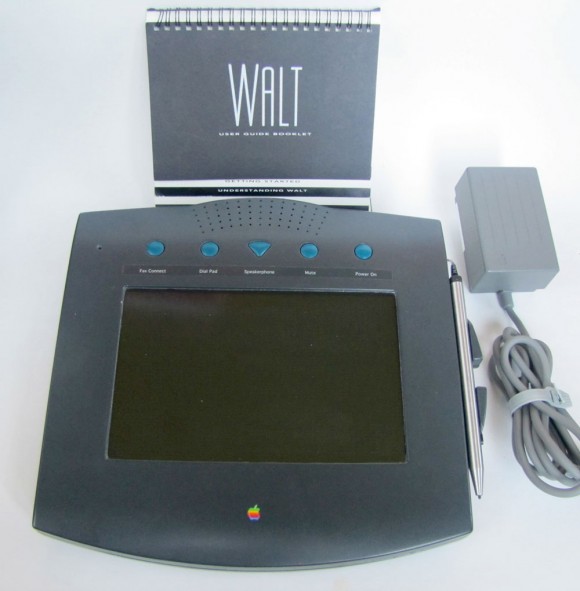 The W.A.L.T ebay auction started at $8000, and the auction of this piece of rare Apple vaporware ended on Sunday for the same price.
Since ebay removes listing after a few months or if the auction is pulled, here's the full ebay auction listing from ebay seller russel400 (via mactrast):
"I have decided it's time to let go of the jewel of my collection. The W.A.LT. is an incredibly rare find and will make your collection the envy of all the Apple fanatics out there. Apple introduced W.A.LT. at 1993's MacWorld Boston yet never made it available to the public. The revolutionary product's acronym stands for Wizzy Active Lifestyle Telephone. This device featured a high-resolution touch screen LCD w/ stylus, hand writing recognition, fax, address book, caller ID, online banking, speakerphone, message pad, and personalized ring tones. Clearly a device way ahead of it's time.

The W.A.LT. ran Mac OS 6.0.8 with Hypercard in place of the Finder. It was co-developed with Bell South. It also has hidden support for external SCSI and VGA out. This rare model (#68) is one of the few prototypes in existence. I even have an printed manual from Apple! Back in 2008 PC World published a list of the "Top 15 Vaporware Products of All Time". The W.A.LT. was #1.

This device is in excellent condition for a prototype. I'm more a collector then a tech so I'm not the tinkering type. Both the screen and the hard drive work sporadically. It seems quite apparent that there are some loose connections. Though I'm selling the device as is, I feel confident that someone could get inside this and have it working consistently in no time. It has been fully functional. This is an incredible device and I hope to find a good home for it."
It is unusual for Apple to not pull an auction of a prototype. But the buyer might not want to celebrate yet. When an unreleased prototype is sold at auction, often Apple would request the seller not to go through with the transaction.
Although this product was never sold, the iPhone was released on 2007, fourteen years after W.A.L.T. was demonstrated at Macworld. It's funny that the 2012 Samsung Galaxy Note seems to have copied this 1993 Apple product in terms of stylus and large, head sized screen. (Or perhaps Samsung was copying the 1993 Apple Newton PDA?)

Related Posts