Analysis: iPad 4 Concept Video
The analysis of the viral iPad concept video. Hint: some major conflict with reality.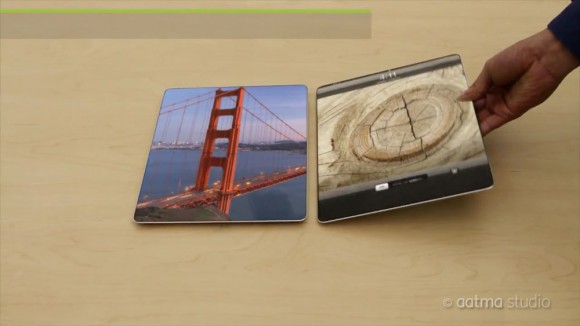 Our part time contributor Don Williams wrote about this iPad concept video earlier today:
Created by Aatma Studio, the same folks that brought the iPhone 5 virtual keyboard + holographic projector concept. Video consists of 3 parts:
Edge-to-Edge Retina Display
Internal Magnets + Near Field Communications (NFC)
3D Multiplayer Hologram
The concept video contains some problems:
Impossible to hold such a tablet of such size. The reason iPad has a bezel is so that fingers can grip the tablet bezel without activating the screen.
iPad 3 is supposed to come with 2048 x 1536 retina display. Put two of those together and you'll need a very high quality video for full resolution across two iPads. Interesting concept though.
As we explained in the iPhone 5 concept video post, holographic projector isn't portable right now. In addition, pico projectors are too dim for anything besides a very dark room.
Nice concept to easily combine iPad to create a larger screen. Here's one of 25 iPad interactive wall in real life, and a home made DIY iPad with retina display resolution.
It'll be nice to see some kind of NFC communication of iPad with other Apple iOS devices and computers. But that can be done using the built in Bluetooth.

Related Posts