iPad 3 (2012) Reviews [Videos + Summaries]
The first reviews of the third generation iPad (2012) are out, including videos. Here are the review roundups.
iPad 3 Retina Display vs. iPad 2 Close Up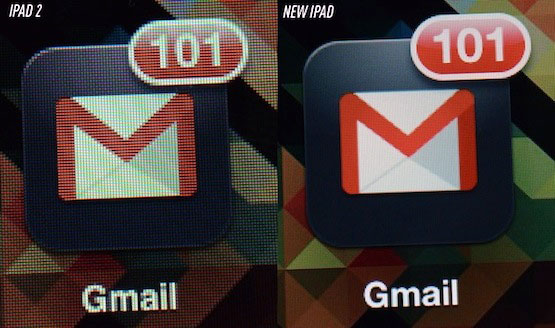 Summary of the third generation iPad review? Retina display is amazing, and the new iPad is faster on everything. 4G LTE on iPad 3 can reach speed near Wi-Fi speed. The Apple tablet still leads the industry with no competitor in sight.
Video: iPad 3 Review
MacWorld, Jason Snell with video review above:
"[Those with iPad 2] might not want to look too closely at the new iPad's screen. Once you get a load of that Retina display, it's hard to go back to anything else."
The Loop, Jim Dalrymple:
"So, what did I like about the iPad? Simple — the experience. Nobody in the market today can touch the Apple experience."
Tech Crunch, MG Siegler:
"The New iPad Makes Apple's Tablet Domination Clearer Than Ever"
All Things D same on Wall Street Journal, Walt Mossberg
"These upgrades are massive. Using the new display is like getting a new eyeglasses prescription—you suddenly realize what you thought looked sharp before wasn't nearly as sharp as it could be."
The Verge, Joshua Topolsky with video review:
"YES, THIS DISPLAY IS OUTRAGEOUS. IT'S STUNNING. IT'S INCREDIBLE."

"THE IPAD CONTINUES TO STAND HEAD AND SHOULDERS ABOVE THE COMPETITION"
New York Times, David Pogue
"Now, 4G is a notorious battery hog. It scarfs down electricity like a football team at a hot dog eating contest.

Apple, however, was determined to keep the iPad's battery life unchanged from the last model: nine to 10 hours on a charge. In my all-day nonstop-usage test, it did manage nine hours."
Daring Fireball, John Gruber:
"It's not just sharp; the display also shows great bright colors without any saturation-gimmickry like you get with OLED displays. Photographs look amazingly good, but also amazingly true-to-life."
Bloomberg, Rich Jaroslovsky:
"If you don't already have an iPad, chances are you'll be very happy with the third-generation model that goes on sale Friday. If you already have an iPad 2, there's little need to upgrade."
Slash Gear, Vincent Nguyen:
"Interestingly, it's not just native third-party iPad apps that are improved with the Retina Display technology. iPhone titles used in the "2x doubling" mode look considerably better than on either of the previous iPad versions, with the new smoothing technology being brought to bear to make them feel less obviously magnified."
USA Today, Edward C. Baig, as noticed by @chpwn:
"no Adobe Flash"
Someone missed the memo that Adobe killed Flash for Mobile months ago.
Image from The Verge.

Related Posts