2,000 ASUS Transformer Prime Android Tablet Pre-Orders in 107 Days [Epic Fail]
Quad-core Android flagship tablet with seemingly impressive spec sheet that include Nvidia Tegra 3 failed to transform Android devotees into customers.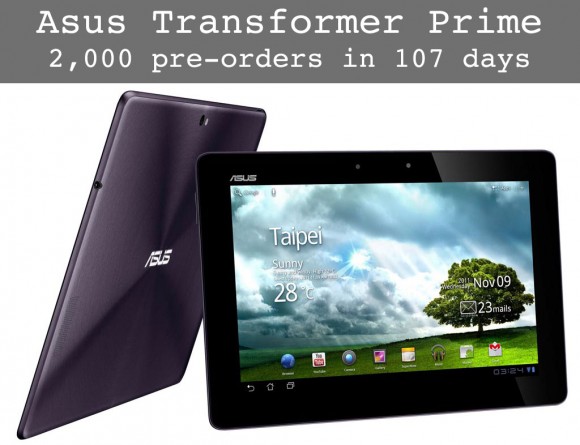 Lawsuit between Hasbro, maker of Transformer toys such as the Optimus Prime, and Asus, maker of flagship Android tablet Transformer Prime revealed:
"as of February 24, 2012, [Asus] had received over 2,000 pre-orders … and that retailer fulfillment orders for the next two months total approximately 80,000 tablet computers."
Android is surely winning the tablet market! Let's look at its announcement and release schedule of this latest challenger to RIM Playbook and HP TouchPad:
November 9, 2011: announcement of Asus Eee Pad Transformer Prime
December 1, 2011: released in Taiwan
December 19, 2011: released in United States and Canada
Yes, that's two-thousand pre-orders for the Transformer Prime, over 107 days. Even spanning through the busy Christmas season.
This month, Apple sold 3 million new iPad in 4 days.

Related Posts