Zombies, Run! Immersive Running Game Released for iPhone & iPod touch
Kickstarter funded iOS app that transforms running into a game becomes reality.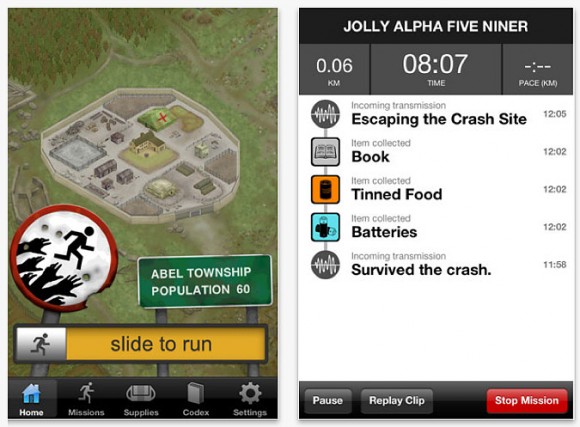 If you want to make jogging more fun, there is an app for that. Back in September, ObamaPacman noted this promising running game on kickstarter that promise to jump start your run with zombies.
Zombies, Run! [App Store] is now available for iPhone and iPod touch users. Features:
Run away from zombies by jogging in a park, running along a beach, or walking along a trail. It even works on treadmills!
Listen to your own music: "the story unfolds in between your tracks through a series of dynamic radio messages and voice recordings."
Optional interval training with zombies: "With our optional ëZombie Chasesí mode, youíll need to increase your speed and work up a sweat if you hear zombies on your tail. Thatís right – weíve made interval training *fun*!"
Mission gets you resources, once you are done with your run, you can choose how to allocated resources to build up our base. The larger the base, the more missions you have access to.
Sounds very promising. We'd imagine that the app uses GPS for outdoors run and accelerometer for treadmill run.
$7.99 gets you the App and the first season of content. There are current 13 missions, 17 more missions are coming as a free update.
Would it be cheating if I escape from zombies with a Mac outfitted bicycle? So easy. ;)

Related Posts