Tonight: Inside Foxconn Apple Factory, Nightline
ABC gets an exclusive look inside Foxconn, special airing tonight.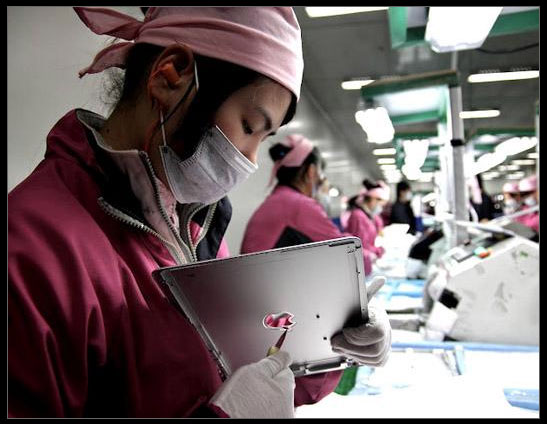 Video Preview, Nightline "iFactory: Inside Apple"
Bill Weir of ABC Nightline was invited to visit Foxconn to document the conditions:
"In a three-golf-cart convoy, both Apple and Foxconn reps took us around to a half dozen production lines in Shenzhen and Chengdu, and there were always five to six people with us as we toured the factories and dorms. But aside from suggesting a visit to the counseling center or canteen, they never steered us to interviews and never interrupted."
Over three days, ABC conducted interviews and inspections. And from what they've seen, it was no sweatshop. F.L.A. also came to the same conclusion in a recent independent visit.
Foxconn is China's largest exporter, with major clients including: Acer, Amazon, Apple, Cisco, Dell, Gateway, Hewlett-Packard, Intel, Microsoft, Motorola, Nintendo, Nokia, Samsung, Sony, SonyEricsson, Toshiba, and Vizio.
Problems of working conditions at Foxconn were discovered by Apple audits years ago and first published by Apple. And after string of incidents in 2010 it was publicized by Mike Daisey's monologue The Agony and the Ecstasy of Steve Jobs. However, ABC notes Foxconn's suicide rate is "well below China's national average". Foxconn had added counseling to help workers.
After explosion at Foxconn iPad 2 factory, robots were added to some areas of the assembly line.
Nightline is airing the full report "iFactory: Inside Apple," tonight Feb. 21 at 11:35 p.m. ET/PT on ABC. The ABC article also contains a 16 photo gallery.
Update (Feb 22): watch it here.

Related Posts