"Temple Run" Knockoff Took App Store Top 10 Spot
How did this one sneak through the App Store approval process?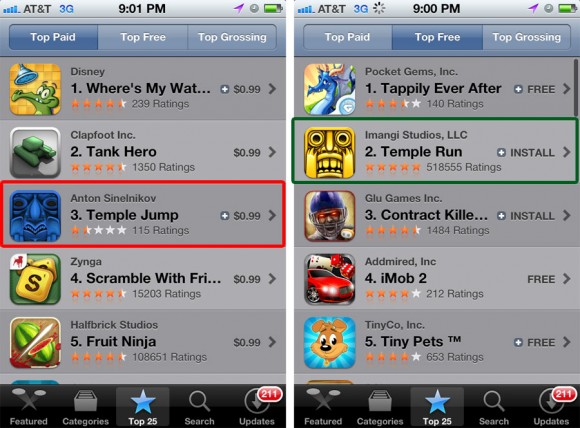 On Thursday night, ObamaPacman discovered that "Temple Jump" [App Store], a phony version of the popular "Temple Run" [App Store] briefly made onto the coveted top 10 spot in the App Store. The fake game was released on February 1, and was the 3rd "Top Paid" app on Feb 2.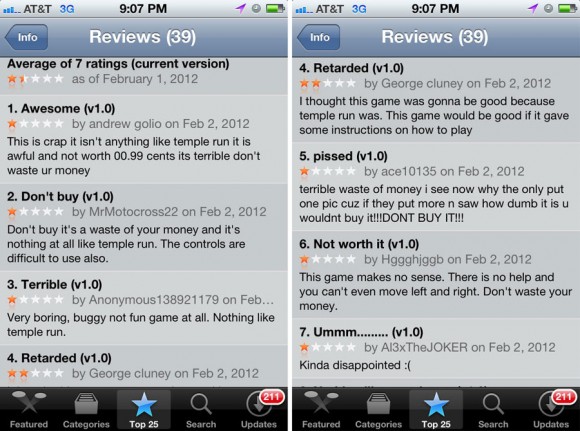 The icon of the fake game is similar to Temple Run, the name is similar, and many the iTunes reviews compared it to Temple Run.
"This game tricks you, it's not temple run…"
"Trash….. Nothing like or even close to temple run even if it does involve jumping instead of running. Not worth it period…."
"This game is so bad, i rather watch paint dry."
At least people are all rating Temple Jump with one star. And the sad thing is the real Temple Run is free. Let's compare them:
Temple Run
Imangi Studios, LLC
5 screenshots showing gameplay
5 stars 562584 ratings
Free
Temple Jump
Anton Sinelnikov
1 screenshot, does not show game play
1.5 stars. Mostly 1 star reviews
$0.99
Which one would you pick?
Just about all top App Store paid apps are highly rated, so this outlier should set off a flag. Apple should refund users in these cases.
Currently traveling internationally. My internet connection is slow, seems that the fake game is removed at this time?

Related Posts