T-Mobile Parent Deutsche Telekom: Best iPhone Germany Sales Ever
Reason why a company would say iPhone is taking way its US customers.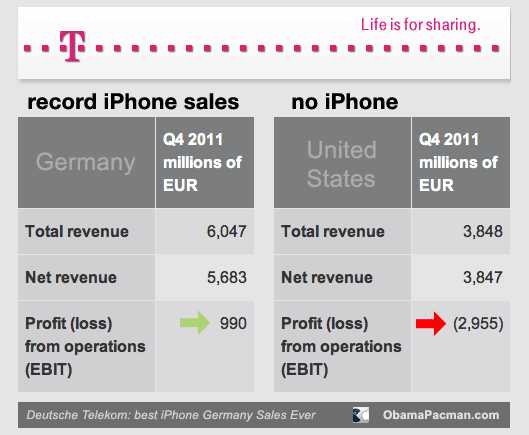 Earlier today, Deutsche Telekom reported T-Mobile USA is losing over 3/4 million customers to iPhone last quarter.
But Deutsche Telekom 2011 financial report released today has good news too:
"Almost half a million Apple iPhones were sold in the fourth quarter alone, the highest ever quarterly iPhone sales figure for Deutsche Telekom in Germany."
Let's see how Deutsche Telekom did in Q4 2011:
Germany operating segment (millions of EUR)
United States operating segment (millions of EUR)
Revenue 3,848
Loss of (2,955)
The impact of having the iPhone on Deutsche Telekom is clear, because there is *no* mention of BlackBerry, WebOS, Android, or Microsoft Windows Phone in the report. Or perhaps Android's killer feature is to bleed T-Mobile USA to dry?

Related Posts