Steve Jobs' Top Secret Security Clearance & FBI File
In 1991, FBI investigated Steve Jobs, who was considered for appointment for a sensitive position on the U.S. President's Export Council.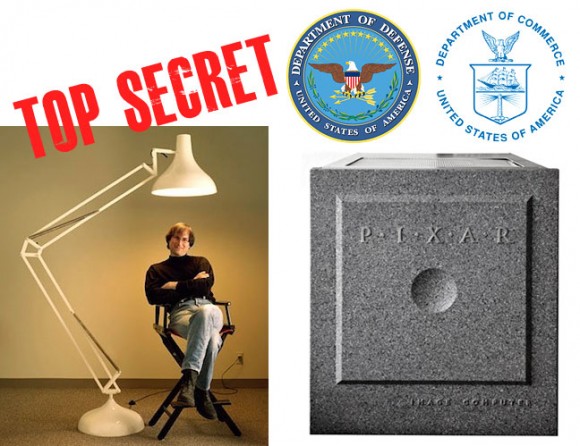 Steve Jobs FBI Background Check File
On Steve Jobs' FBI background check, FINS reports:
"The Federal Bureau of Investigation on Thursday made public a background check on the Apple co-founder that took place in 1991. The agency assembled the investigation because Mr. Jobs was being considered for a presidential appointment by George H.W. Bush to the President's Export Council, which advises on international trade. Mr. Jobs was appointed to the position that year.

The Wall Street Journal/FINS.com requested the file through the Freedom of Information Act."
The PDF on FBI website [3.9MB, 191 pages] includes the FBI's 1991 background investigation of Jobs for the Presidential appointed job and a 1985 investigation of a bomb threat against Apple.
Here's a video of Joseph Walker of FINS talks about the FBI file on Steve Jobs:
Steve Jobs Had Top Secret Security Clearance
Besides getting the job on the Export Council, FINS noted:
"The file also reveals that Jobs received top secret security clearance from the Department of Defense for work he was doing in connection with Pixar. The clearance was effective between November 1988 and July 1990."
It is unclear why Steve Jobs received top secret clearance, but ObamaPacman found it might be related to Pixar's hardware division. Here's what Wikipedia has on Pixar around the time:
"In April 1990 Jobs sold Pixar's hardware division, including all proprietary hardware technology and imaging software, to Vicom Systems, and transferred 18 of Pixar's approximate 100 employees. The same year Pixar moved from San Rafael to Richmond, California."
The security clearance was effective until July 1990, just 3 months after Steve Jobs sold the Pixar hardware devision. Was the Pixar hardware the Space Odyssey monolith? Or perhaps Luxo Jr. was a secret weapon of cuteness?

Related Posts