Samsung Spends Millions Bashing iPhone Fans With Super Bowl Ad
Samsung loves to copy Apple's every little move, while ironically bashing it and its legends of fans as demonstrated in its recent Super Bowl ad, seen above.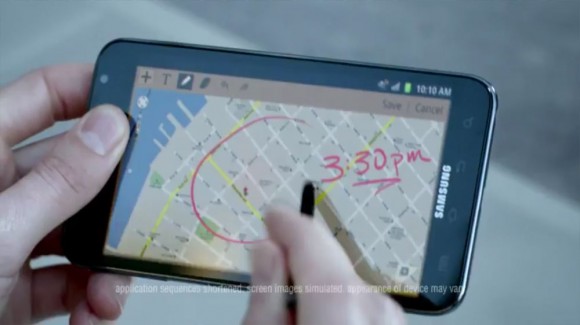 "Application sequences shortened. Screen images simulated. Appearance of device may vary." – Samsung stylus phone, 2012 Super Bowl ad.
Commenting on the above ad, Apple Insider wrote:
"The ad begins as usual with customers waiting in line for what is presumably the launch of a new iDevice, who make a few quips about how long they have been waiting, when one of them spots a Galaxy Note user and asks, "what is that?!" From there, things take a turn for the absurd, and soon everyone is using the Galaxy Note to make movies, take pictures and even grab the odd autograph from Urlacher."
This piece of hypocritical 'you-know-what' cost the South Korean giant a rumored $10.5 million bucks! Wow, in other words, as far as some people might be concerned, they paid millions to downright lie, or at the very least twist the truth!
Frankly, it wouldn't matter if Samsung spent ten times the amount that they did on the ad, because in the end ts series of smartphones are still nothing but big rip-offs of the iPhone and no matter what they say, or spend , Samsung's hypocritical bashing of Apple and its customers only makes Samsung look like a childish piece of giant snot!
[OP Editor's note: It's funny to see a disclaimer on the 10.5 million Super Bowl ad describing that the Samsung stylus phone won't function as described. Besides, is Samsung really copying the 1993 Apple Newton, which comes with a stylus?]


Related Posts