Samsung Admits: Tablets Sales Aren't Doing Well, Gets Spanked By The iPad In Its Own Country!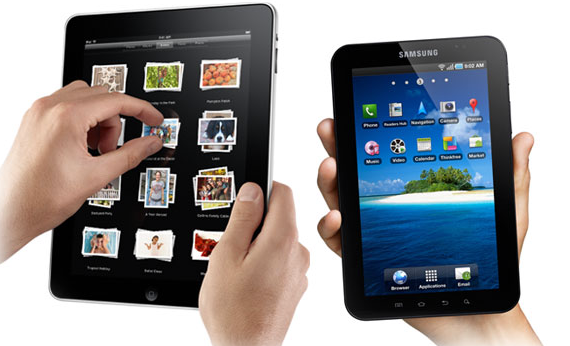 Not only has the iPad been spanking Samsung's Galaxy Tabs in its own back yard, Samsung has now come out and admitted that it's not doing well in tablets after all!
"Honestly, we're not doing very well in the tablet market," Hankil Yoon, product strategy executive for Samsung, told reporters, including CNET News' Roger Cheng. Ouch. So how's it going to go about remedying this? By cannibalizing its own products. Seriously."
Well, good luck on that one Sammy.
Personally, I never really liked the first Galaxy Tab at all, a seven inch tablet who's hardware was seemingly rather good, but if you ask me it was far too small for most regular blokes like myself.
Samsung's first offering clearly wasn't a success so now it is introducing a host of tablets with sizes similar or slightly larger than that of the iPad, and some of its tablets, like the Note, even come with a stylus for making notes and doodling. I rather like the doodling thing, but the problem with all other tablets, with the exception of the iPad and the Kindle Fire, is that they all lack content, and content is king apparently as shown by the sales of the latter two tablets.
Unfortunately, the bad news for Samsung doesn't stop in its homeland. For example, the ChannelRegister is reporting that Samsung's fate isn't that much better in Europe and stated that:
"According to a Q4 snapshot from IDC, Samsung sold 353,000 tabs into channels across Western Europe, taking a market share of 8 per cent compared to 3.3 million units from Apple and a whopping 70 per cent market share."
Meanwhile, Android's chief architect and honcho, Andy Rubin, says that they'll be 'doubling down' to ensure that Android takes the coveted tablet crown from Apple's iPad. According to Mr. Rubin:
"The Android ecosystem is the No. 1 priority … we won't do anything with Motorola, or anybody else, by the way, that would screw up the dynamics of that industry," Google executive chairman Eric Schmidt said last year. "We need strong, hard competition among all the Android players. We won't play favourites in the way people are concerned about."
With the iPad 3 expecting to be announced on March 7, Samsung and other Android tablet providers, as well as those featuring the upcoming Windows 8 U.I., are going to have their work cut out for them. They all have been boasting, after first mocking the iPad, that they were going to kill it off, but so far they have been doing a lousy job at it, a very lousy job.
In fact, the only hot selling tablet these days, other than the iPad itself, appears to be the Kindle Fire which some believe may already account for up to 50% of the 12 million Android tablets sold for all of last year. Compared that to the 15 million iPads sold in just the last three months alone, then Samsung and the rest of the tablet hopefuls really do have their jobs cut out for them indeed!
Samsung Galaxy Tab and iPad 2 photo via: Digital Trends
[Editor's Note: Google said Android "activation" numbers exclude Android forks such as Kindle Fire and the Barns and Nobel Nook]

Related Posts