Product Branding: RIM Just Doesn't Get It
What company adds copyright, trademark symbols, and a link to self promote an unpopular product?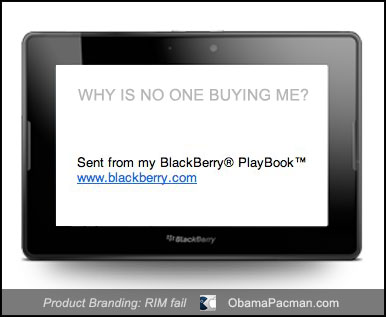 Thomas Ricker noted the default email signature of the Playbook:
Branded email signatures are lame but PlayBook's includes the copyright and trademark symbols AND a link by default. yfrog.com/kfr43byj

— Thomas Ricker (@Trixxy) February 21, 2012
RIM took a year to add an email app to its failing BlackBerry Playbook tablet, and copying iPhone signature poorly is the best branding exercise it can think of?
It'll have the same impact as: "Sent from my BlackBerry BeBold LameBook", as most fortune 500 companies already adopted the iPad and iPad 2 in the past 2 years. Even the Batmobile has an iPad.
Apple first started using "Sent from my iPhone" in 2007 when it was novel. Even today, some Chinese people are willing to pay a $1 per month fee to add the iconic signature.
There is no such interest for RIM products. At least there are no Playbook with mobile data connection for carrier to inject their own branding.

Related Posts