Real Mountain Lion vs. Mac OS X Mountain Lion
Apple made mountain lion better than the real animal.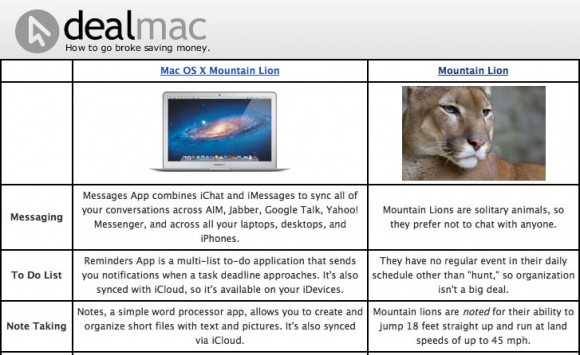 Jeff Somogyi of Dealmac made a mountain lion vs. OS X face-off comparison table of new Mac OS 10.8 features vs. the big cat. Some examples:
To Do List

OS X: Reminders App is a multi-list to-do application that sends you notifications when a task deadline approaches. It's also synced with iCloud, so it's available on your iDevices.
Mountain Lion: They have no regular event in their daily schedule other than "hunt," so organization isn't a big deal.

Desktop Streaming

OS X: AirPlay Mirroring lets you send your Mac's desktop to an HDTV via AppleTV.
Mountain Lion: Though not known for any type of habitation relationship with streams or rivers, they can swim if they have to.
Check out total of 9 on their site. No "low hanging fruit" cougar jokes about Mountain Lion though.

Related Posts