New Twitter Celebrity – NASCAR Driver Brad Keselowski Uses iPhone & Mac
Racecar driver Brad Keselowski used iPhone to tweet during the Daytona 500 race, gained 100,000 followers in an hour.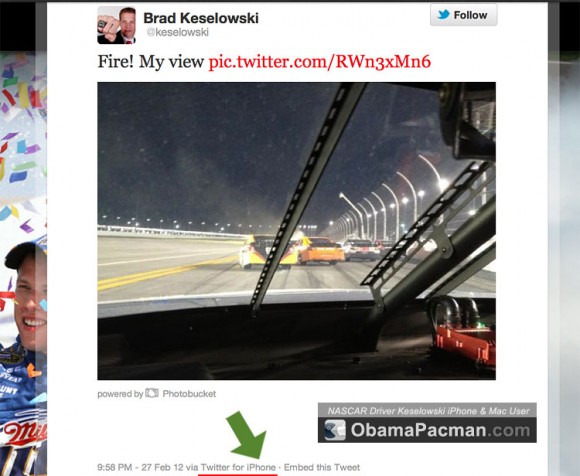 Keselowski, the 2010 NASCAR Nationwide Series Champion, was not going around the track at racing speed of near 200MPH. The 2012 Daytona 500 stopped With 40 laps to go due to the red flag, allowing time for him to tweet on his iPhone.
"Keselowski's fellow driver Juan Pablo Montoya crashed into a safety vehicle mid-race. The collision and jet fuel — the safety vehicle reportedly holds 200 gallons of jet kerosene — sparked a huge ball of fire, although both vehicles' drivers appeared to avoid serious injury. The race was halted."
Brad Keselowski took a photo of the fire using his trusty iPhone, and tweeted using Twitter for iPhone. Before he tweeted photo of the fire, @keselowski had 85,000 followers. An hour later, he had 185,000 followers. But it's not all due to the photo becoming viral. Brad also provided additional photos, updates, and answered fan questions. For example:
Where does Keselowski put his iPhone when the race continues?
My pocket@zanestoddard: BK – Where's that phone go when we're green? "@keselowski: Fire!My view twitter.com/keselowski/sta…""

— Brad Keselowski (@keselowski) February 28, 2012
Are other drivers tweeting?
NopeThey all think I'm crazy. ESP this guy!@mest_girl99: @keselowski Any of the other drivers tweeting?" twitter.com/keselowski/sta…

— Brad Keselowski (@keselowski) February 28, 2012
Brad Keselowski Uses Mac
Brad Keselowski also uses his Apple laptop to review race strategy and sets a challenge to beat Jimmie Johnson:
Reviewing new race strategy for next plate race.Be worried @JimmieJohnson twitter.com/keselowski/sta…

— Brad Keselowski (@keselowski) February 25, 2012
There are somethings money can't buy. For example, other high profile iPhone fans:
P.S. NASCAR didn't have a problem with the tweets, Gizmodo reports:
"NASCAR also added via Twitter that they weren't going to penalize Keselowski for his tweets and that they encourage other drivers to 'use social media to express themselves as long as they do so without risking their safety or that of others.'"

Related Posts