More iOS Devices Sold in 2011 Than All Macs Ever Sold
Chart about the explosive growth rate of Apple iPhone, iPad, and iPod touch.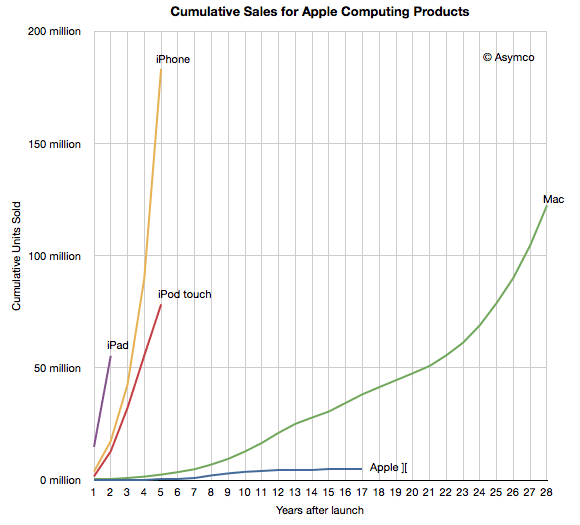 Horace Dediu of Asymco research, "Apple sold more iOS devices in 2011 than all the Macs it sold in 28 years":
"The iOS platform as a whole reached 316 million cumulative units at the end of last year. The iOS platform overtook the OS X platform in under four years and more iOS devices were sold in 2011 (156 million) than all the Macs ever sold (122 million)."
Asymco made the chart after Apple CEO Tim Cook recently talked about over 55 million iPad sold at Goldman Sachs Technology and Internet Conference in San Francisco (transcript):
"it took us 22 years to sell 55 million Macs. It took us about 5 years to sell 22 million iPods, and it took us about 3 years to sell that many iPhones. And so, this thing is, as you said, it's on a trajectory that's off the charts."
iNcredible.
No wonder iCloud reached over 100 million users and Apple just had a record breaking quarter.

Related Posts