JP Morgan: UltraBooks Won't Help Drive PC Growth Or Challenge The MacBook Air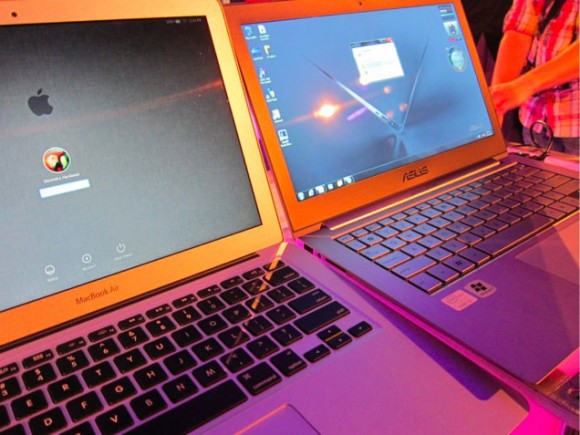 As PC makers are scrambling to do what Apple did three whole years ago, namely create a computer to match its ultra slim, sleek and ultra sexy MacBook Airs, it appears that their answer to the Air, their so-called UltraBooks, won't be the answer to driving PC sales for the coming year as they had hoped, at least not according to JP Morgan.
Windows-based ultrabooks, according to JP Morgans analysis, are still unlikely to achieve the same type of success that Apple's MacBook Air has already achieved, and further more he doesn't expect them to become "meaningful enough" to drive 2012 PC sales like many manufacturers had been hoping for.
As AppleInsider reported, JP Morgans's analyst, Mike Moskowitz, viewed UltraBooks to be "more of the same PCs", and PCs that drew much too heavily from the MacBook Air which Apple introduced all the way back in 2008, and according to him:
"It seems that everyone wants to be like Apple," he said. "All of this market emulation of Apple is ironic, in our view, given the initial skepticism that the MacBook Air received."
In other words, and also as the world's wisest man, Solomon, once wrote:
"There's nothing new under the sun."
The biggest problem for UltraBooks, however, according to Mr. Moskowitz is their pricing and until they can get the price points down to $800 or less, he feels that the Macbook Air has very little to fear. Some are predicting, however, that those prices could fall as much as 20 – 30 % as Intel gets ready to unlease its latest next-generation Ivy Bridge platform sometime in April.
Frankly, however, Apple's first place advantage, as also noted by Mr. Moskowitz, should help to insulate the Air somewhat from the coming onslaught of these new PC Air wannabes, but not only that, Apple's expected and completely redesigned MacBook Pros could even help further Apple's lead, as they too are expected to adopt much of the current Air's function, form and over all design as well.
All-in-all, 2012 is looking to be a great year for the introduction of new laptops and all led, once again, by Apple's award winning MacBook Airs and MacBook Pros.
MacBook Air and Asus UltraBook image via: VentureBeat

Related Posts