iPad 3 Has 2048 x 1536 Retina Display
The iPad 3 retina display rumor is finally confirmed.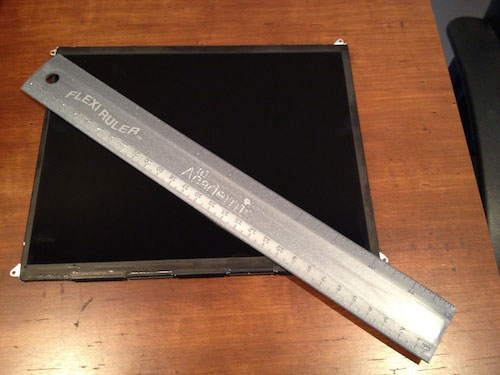 Macrumors reports that it has obtained a 9.7″ iPad 3 display and measured it:
"when comparing the iPad 3 display to one from an iPad 2 under a microscope, the difference in resolutions becomes readily apparent, with the iPad 3 display's pixels appearing to be one-quarter the size of those on the iPad 2."
The display of the 2010 iPad and 2011 iPad 2 contains 1024 x 768 pixels, a common dimension of office projectors. Doubling the pixel count on each side to 2048 x 1536 would require 4 times the amount of pixels, more than most computers. All that in a 9.7″ iPad 3 display. That means the iPad 3 will have a higher quality display than the typical 1080P blu-ray movie, which has 1920 by 1080 pixels.
Although the current iPad display works great for most purposes, the retina iPad 3 display will be a boon for those who read Asian characters.
Apple is expected to hold the iPad 3 keynote on Wednesday March 7. But when will iPad 3 go on sale? Judging from iPhone 4S launch dates, ObamaPacman expected new iPad 3 to be available in late March (or late April if there is production constraint).
Retina display was originally introduced with the 2010 iPhone 4. We can't wait to see it on the iPad.

Related Posts