How to: Quickly Save + Access Saved Mail Draft on iPhone, iPad, & iPod touch
Hidden shortcut of iOS Mail app, for the email power user.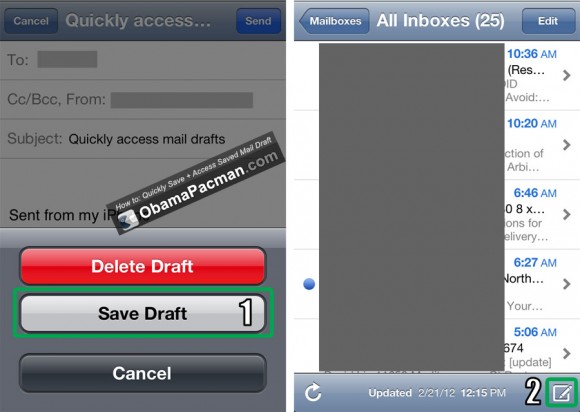 Lukas Mathis at ignorethecode wrote "Please Steal These webOS Features":
"On iOS, it's almost impossible to leave a draft, read another mail, and go back to the draft. It can be done, but it's ridiculously cumbersome."
Here's how to do that quickly.
Q: How to save drafts in iOS Mail App?
A: Just start a new message in Mail, hit "Cancel" then use "Save Draft" (annotation 1). It'll be saved in your drafts box.
Q: How do I access my last saved email draft on my iDevice?
A: There is the long way, which is using "Mailboxes", then scroll down to Accounts, select an account, click Drafts, then click on the draft. To go back to unified email inbox, you then have to hit back two times, then select All Inboxes. It's surely long and tedious.
Short way: hold the Compose button (annotation 2) to bring up your last saved draft.
The shortcut to last draft is saved as long as you don't restart your device. If you restarted the device, as of iOS 5.0.1, you have to use the long way to access your last draft. Like this tip? Check ObamaPacman for more iOS and Mac tips.
PS. WebOS cards copied the Safari tab switching from 2007.

Related Posts