Google Willfully Bypasses Browser Privacy Settings
Google secretly adds tracking cookies to browsers without permission.
Google Bypasses Safari Privacy Settings
Safari browser blocks third party tracking cookies by default. But Google bypassed the user's privacy settings. It was even against Google's own policy.
The page has changed after the discovery, but Danny Sullivan of marketingland, took a copy of Google's own page on cookie op-out using Bing's cache: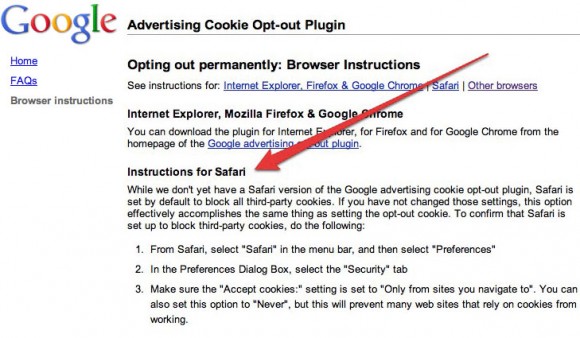 Google already changed the page, erasing the part about Safari browser: http://www.google.com/ads/preferences/plugin/browsers.html
Google Bypasses I.E. Privacy Protection
Microsoft also discovered Google adds tracking cookies to I.E. browser users: In this case, Google sets fake header to bypass P3P Privacy Protection feature in IE.
Why are we not surprised?
The same deceptive privacy practices by Google resulted in 20 years of FTC monitoring. This might violate the agreement. Members of Congress already asked the FTC to investigate.
Recently, Google employees were caught vandalizing competitor service and scraping competitor database. In 2010, Google street view cars were caught harvesting user passwords and web data over wifi.

Related Posts