Get Rid of Junk Mail with Paper Karma iPhone App [Freebie]
Cut down paper waste with this time saving iPhone app.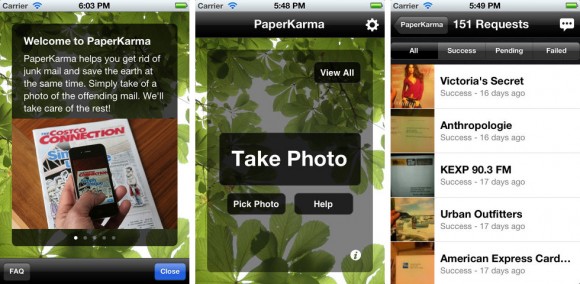 Currently featured by Apple, Paper Karma [App Store] is a great app for the environmental conscious iPhone users.
Take a photo of the junk mail, and Paper Karma will try to stop companies from sending you more paper junk mail. The app will also track the mail you've submitted. The app works on:
Magazines
Catalogs
Coupon Books
Fliers
Credit Card Offers
White and Yellow Pages
If you can take a picture of it, PaperKarma will try to stop it!
Paper Karma is on sale as a free download for a limited time.
How does it work? The company created its own database of mailers, and contact them to have you removed. Paper Karma blog describes that they typically have success:
"We really can remove your name and address from these lists. Most reputable companies comply with laws that allow your name to be expunged from distribution lists when formally requested. And you don't have to manage any of this communication!

Now, does it always work? Unfortunately, no.

Sometimes there isn't an actual list to be removed from, per se. Junk mail can be carpet-bombed over an entire postal code or mail route, and there is little we (or anyone else) can do about this type of mail."
So it should work for most junk mail from mailing lists, so give it a try! Requires free account or login using facebook.

Related Posts