Gatekeeper: Mountain Lion Security Keymaster with 3 Modes
Gatekeeper will provide easy way to have complete control over what apps are installed on your Mac. Comes with 3 modes.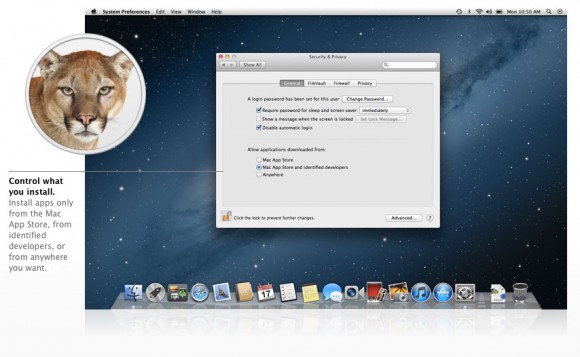 Review of OS X Mountain Lion by Jim Dalrymple from The Loop:
"Mountain Lion is going to make it safer for users to install software and be free from the threat of malicious downloads. As part of the GateKeeper program all developers will be given a unique Developer ID, allowing them to sign their applications.

GateKeeper has three basic options. Allow only Mac App Store apps to be installed; Mac App Store apps and apps signed with a Developer ID; and Anywhere, which allows any app to be installed."
I bet the third mode would require admin password, just like OS X for the past 10+ years. Meanwhile, Windows' default is still allow anyone to install any malicious program without a need for an admin password.

Related Posts