[Free Today] Panorama Photo Camera App
Download this iPhone and iPod touch app for panorama photography free right now.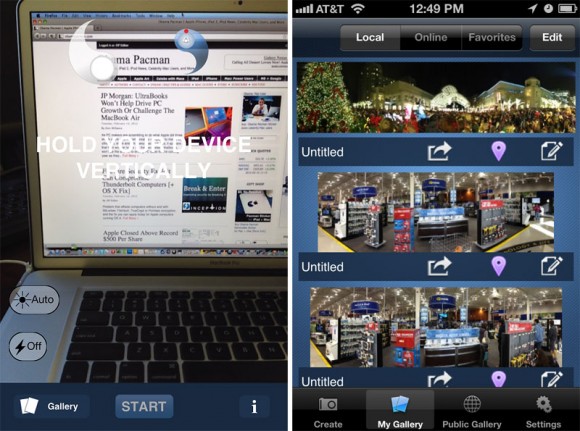 DMD Panorama [App Store], formerly Dermandar is normally $1.99, but currently free.
Just hit start, rotate your iPhone or iPod touch and the app will take photos automatically. The app will quickly process the photo when you hit done. PRO TIP: use the Yin and yang symbol to choose when to take the next photo. The parts come together the closer you are to the next photo. So you can turn it very close, then wait before turning the last part to trigger the photo.

Features:
Uses iDevice accelerometer or gyro to help keep the camera vertical
Share link to 3D viewer page (HTML5 and Flash) or email as JPG
Save images to camera roll
Upload photos to share with the public (optional)
Local gallery shows public photos taken near you
Manually add or change GPS coordinate in app
Limitation:
Can only shoot horizontal panoramic level to the horizon, you can't shoot up, shoot down, or shoot in a grid
Does not correct you for moving camera vertically
Sometimes the photo merging areas are inaccurate
Works better for further objects, like most panorama photography apps
Pano [App Store, $1.99] is still our favorite app for iPhone panorama photography. Why? It allows you to line up the shots with transparent guides, which allows better composing and virtually seamless photo.
Sample photos shot by ObamaPacman resized down to 25% pixel count (half width and half height).

Related Posts