AT&T iPhone 4S, 4, 3GS, 3G IMEI Factory Unlock Service
Permanent factory SIM unlock for all AT&T iPhone is back. Get it now before it's gone.
CutYourSIM AT&T iPhone IMEI Remote Unlock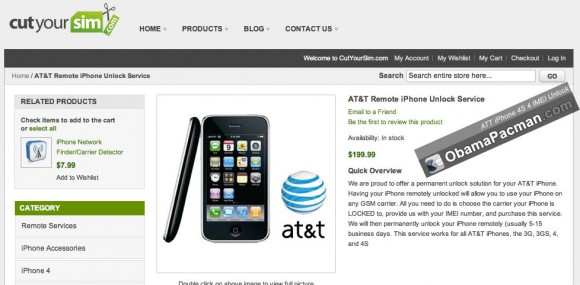 Previously, we mentioned the iPhone 4 factory unlock from a few companies, but it was short lived. Now, some providers are offering the service again for AT&T iPhone 4S, iPhone 4, iPhone 3GS, and iPhone 3G. Requirement for the IMEI iPhone unlock:
AT&T iPhone
IMEI number: dial *#06# on iPhone to get IMEI (don't use one on the box)
Two sites offer the service right now:
Note, IMEI iPhone unlock typically requires a phone that is not blacklisted (reported stolen / insurance claim). I would not pay for iPhone 3GS and iPhone 3G unlock at this price because they can be software SIM unlocked.
What is Factory IMEI iPhone
With a factory iPhone IMEI unlock, you can use any SIM card and update to the latest iOS firmware. No need to use a piggyback hardware SIM unlock or waiting for jailbreak or UltraSn0w software unlock.
Those who travel internationally often but want to pay no roaming charge should consider it. You can also buy contract free factory SIM unlocked iPhone 4S and iPhone 4 from Apple and some carriers.

Related Posts