Android Malware Up 3225% in 6 Months
Android malware samples rocketed from 400 on June 2011 to over 13,000 on December 2011.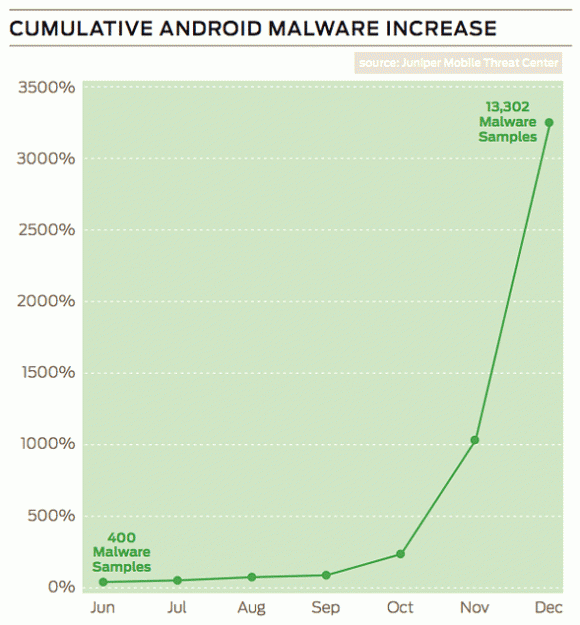 2011 Mobile Threats Report from Juniper Networks Mobile Threat Center (MTC) notes Android's "low barrier to entry drives attacks."
"The Juniper MTC examined more than 790,000 applications and other vulnerabilities across every major mobile device operating system to inform the report."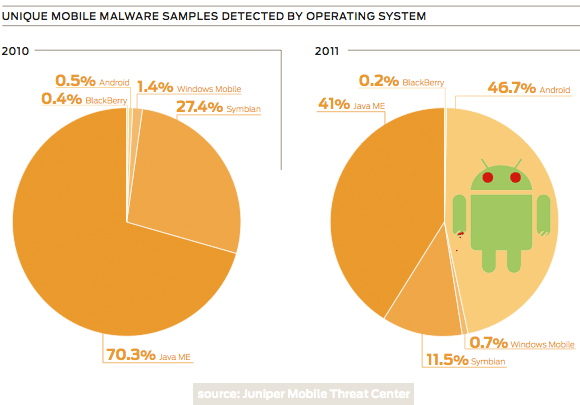 Mobile malware detected in 2011, by OS:
Android 46.7%
Java ME 41%
Symbian 11.5%
Windows Mobile 0.7%
BlackBerry 0.2%
Note that Apple iOS is not in the charts, because it's not affected by malware. How malware are useful?
36% of all mobile malware was comprised of SMS trojans (these apps send expensive text messages that are charged to user's mobile account)
30% of all applications have the ability to obtain device locations without the user's consent
14.7% of all application have the ability to make phone calls without the user's consent (dialing expensive phone numbers without Android user's knowledge for example)
None of the above are possible on the Apple iOS. So, Android is surely open. Open to malware and lack of security that is.
[via zdnet]

Related Posts