Adobe Photoshop Touch iPad 2 App Review
New Adobe app released with some great features, but also highlights why developers should not use Adobe Air to make their app.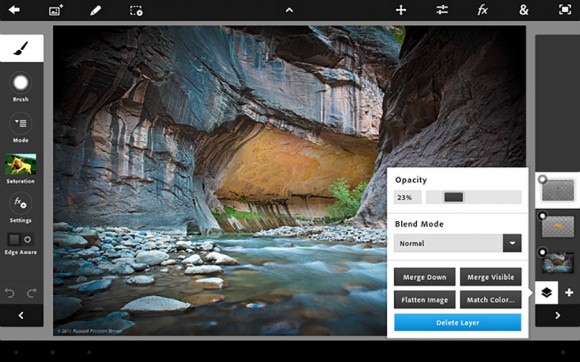 Adobe Photoshop Touch is newly released for iPad [App Store]. It's available for $9.99, and it only works on iPad 2.
Graham Spencer from Macstories wrote a review. Some highlights:
Presentation mode. This sounds great: "You can use AirPlay Mirroring with the app just fine and PS also has an options in the Settings (on the main screen) to enable presentation mode: this puts a visual marker on where you tap, so people watching via an external screen can see what you are tapping easily."
The touchscreen mode works as well as using trackpad or mouse. But there is an useful cursor mode: "Go to the Pencil icon up the top, select "Show Pointer". You will literally be able to control a cursor like on the desktop — your iPad screen becomes a trackpad. It's really cool and well done. Particularly helpful for curved selections that need to be precise"
The app is created using Adobe AIR, which provides a laggy experience: "Scrolling in the app is a little laggy and jarring, it's a minor point but for an app that is so powerful with graphical manipulation, it is a little odd that scrolling through just the list of tutorials isn't as smooth as it is in other native iOS apps. This could be related to the AIR nature of the app"
If Adobe can't make a simple app like Machinarium run well on the iPad, and can't optimize its own Photoshop Touch app to run smoothly, then Adobe Air is fairly useless as multi-platform development tool.
Hopefully Adobe will try to improve the performance of the app in coming updates.

Related Posts