Windows Version of Absinthe iPad 2 + iPhone 4S Jailbreak [& New Mac Version] Released
Untethered iOS 5 Jailbreak for iPhone 4S & iPad 2, released first for Mac, now for Windows and Linux users too.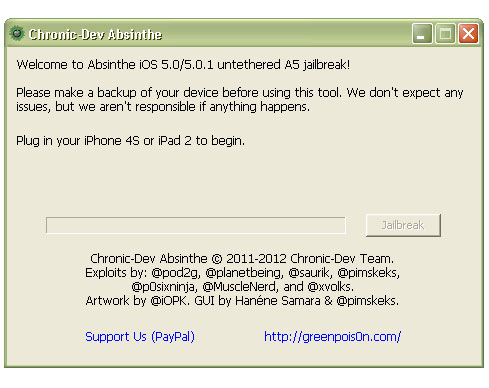 The ridiculously complex combination of exploits-within-exploits that make this iOS jailbreak possible have consumed thousands of hours of brain-power & effort from a legion of world-renowned hackers, several of whom have been working diligently on this project since the dual-core A5 processor was unveiled by Apple last March.
To use it, just download the Absinthe app / program. Launch it, and click "jailbreak." You need to be on iOS 5.0 or iOS 5.0.1.
UPDATE: now version 4
Mac users, if you are already jailbreaked with Absinthe, then no need to use the new version.
If you find this useful and go to the greenpois0n site link above and click:
CONTRIBUTE HERE to iOS Hacking "Dream Team"
and feel free to buy some ObamaPacman stickers.

Related Posts