USPTO Steve Jobs' Patents Exhibit Extended to February 25
Exhibit featuring 300 of the patents with Steve Jobs' name at Alexandria VA USPTO campus, near Washington DC.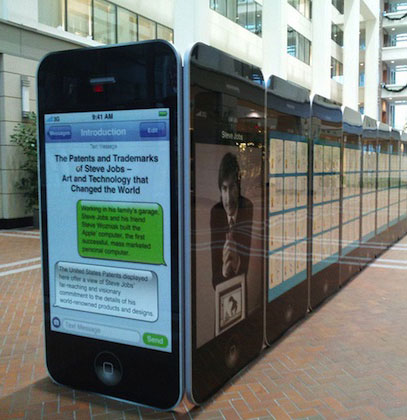 Steve Jobs co-founded Apple at age of 21, and was credited as co-inventor for over 300 patents. United States Patent and Trademark Office noted:
"This exhibit commemorates the far-reaching impact of Steve Jobs' entrepreneurship and innovation on our daily lives," said Under Secretary of Commerce for Intellectual Property and Director of the USPTO David Kappos. "His patents and trademarks provide a striking example of the importance intellectual property plays in the global marketplace."
Originally scheduled through January 15, 2012, the exhibit has been extended to February 25. Too see it, visit USPTO Madison Building, about 20 minutes drive from Washington DC.
Address: 600 Dulany Street, Alexandria, VA 22314 (Google Maps)
The Jobs' Patent exhibit, along with National Inventors Hall of Fame and Museum (M-F 9 to 5pm, Sat noon to 5pm) in the same address are free and open to the public.
Photo by Macrumors, which described the exhibit:
The Steve Jobs exhibit consists of 30 giant iPhone-like display panels, most of which display the front pages from over 300 patent and trademark filings that bear Jobs' name as inventor or co-inventor. The remaining panels offer a brief description of the exhibit and photos of Jobs.
We might be heading there soon to take some more photos of these 300+ patents of Steve Jobs.

Related Posts