Samsung Galaxy Nexus Navigation Feature Drains Battery – Even While Charging [Samsunged]
The real definition of getting Samsunged. The best Android phone Samsung has produced so far with Google's help can't stay charged when using advertised feature.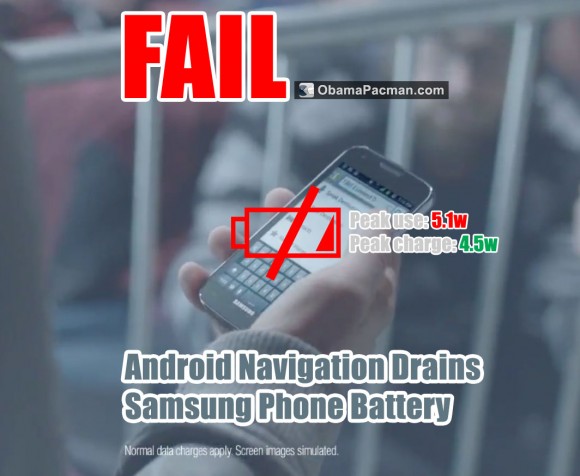 iansmith6 on reddit notes while using Google Maps, his Verizon Samsung Galaxy Nexus drains battery while charging. And that's during best case scenario of standing idle:
After personally experiencing having my phone (A Verizon GN) end up LESS charged than I started out with on a 1 hour trip with navigation on while plugged in, I decided to run some tests. [...]

The [Galaxy Nexus] can draw more power from the battery than the charging system can provide. In the real world the power draw is going to be worse because of all the switching of cell towers and map data downloading. I wasn't about to take my very delicate wiring job on the road, so will just have to guess at the final numbers, but just sitting still was enough to overpower the charger.
The estimate is that the Galaxy Nexus charges at peak of 4.5W, but can consume "steady peaks of 5.1W" when using the Samsunged Android navigation feature. So what does it mean in real life? Those who use Google Maps with Galaxy Nexus could arrive at the destination with no battery left, despite charging the device.
But why can't the GPS just go half speed? Ptaipale commented in the same thread that it might be a difficult issue to solve:
How often you poll the GPS receiver makes no difference at all. If you intend to use it for navigation, you have to keep the receiver powered on and synced to the signal stream from satellites. That's what consumes current.

It's really quite silly if the charging connector of a phone cannot draw enough current to feed the CPU, display, radios and GPS receiver in normal usage. Sounds like a design fault to me.
In contrast, those using an iPhone with charger and turn-by-turn voice GPS navigation such the free Mapquest app will arrive at a road trip destination fully charged. Surely iPhone users got Samsunged.

Related Posts