President Obama to Steve Jobs: Why Can't iPhone Be Manufactured in the US?
Why do Apple and other US companies send manufacturing jobs to China? What's China's competitive advantage?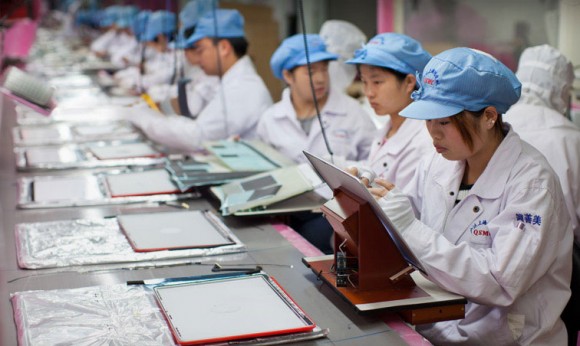 Apple products weren't always made in China. For two decades since its 1984 founding in Steve Jobs' parents' garage, Apple kept manufacturing in the United States, even though companies such as HP and Dell outsourced their jobs to China years ago.
Apple executives drove to iMac manufacturing plant in Elk Grove, California as late of 2002. But by 2004 most of that job went overseas. Today:
Apple employees 43,000 people in US and 20,000 overseas
Apple contractors employee 700,000, mostly in Asia, to produce Apple products
Why are Apple products made in China? New York Times published an in depth article this Sunday: "How U.S. Lost Out On iPhone Work". Basically, China's ability to scale manufacturing operations quickly, and the availability of qualified labor force.
One example is the flexibility of Chinese manufacturers. In 2007, Apple made last minute change to the original iPhone's display from plastic to Gorilla strengthened glass (after Steve Jobs persuaded Corning to produce the glass as noted in Jobs' biography).
Apple executive described what happened after a midnight arrival of the rushed shipment of new Gorilla glass from US to the Chinese manufacturing plant:
A foreman immediately roused 8,000 workers inside the company's dormitories, according to the executive. Each employee was given a biscuit and a cup of tea, guided to a workstation and within half an hour started a 12-hour shift fitting glass screens into beveled frames. Within 96 hours, the plant was producing over 10,000 iPhones a day.

"The speed and flexibility is breathtaking," the executive said. "There's no American plant that can match that."
The New York Times article is an enlightening read.
But all is not lost. The article reports "FedEx and United Parcel Service, for instance, both say they have created American jobs because of the volume of Apple's shipments".
In addition, the intellectual property aspects of "Designed by Apple in California, manufactured in China" won't be outsourced anytime soon. And of course, Apple is planning to build a larger Cupertino spaceship campus.

Related Posts