Over 80% Smartphone Sold by AT&T are iPhones
iPhone dominates Android, BlackBerry, WebOS, and Windows Phones at the largest US GSM carrier.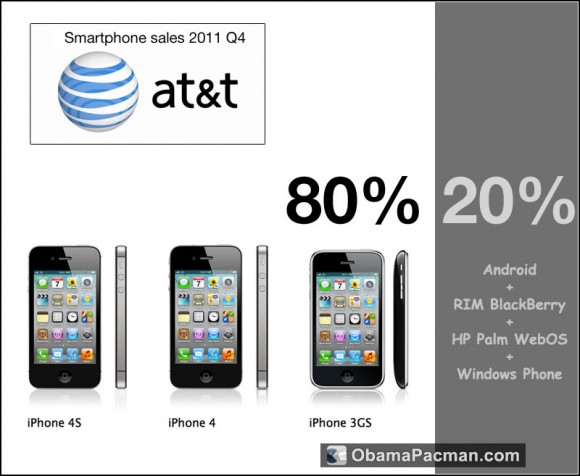 AT&T 2011 fourth-quarter earnings highlight:
7.6 million iPhone activations
9.4 million total smartphone sales
Impressive that over 80% market share were achieved with only iPhone 4S, iPhone 4, and iPhone 3GS.
It's also the best-ever quarter for Android. The question is, out of 1.8 million other phones, after taking away BlackBerry, WebOS / Pam, and Windows Phone sales, how many are left? Even if that is 100% Android phone, the record < 600,000 per month Android phones sold seems quite sad. In contrast, Apple sold 4 million iPhone 4S in three days.
The question is now, where are all the 50 million Android activations Google claimed for last quarter, if 56% smartphone sold at Verizon and 4 out of 5 AT&T smartphone sold are iPhones? Perhaps they are all on the budget carrier T-Mobile, where there is no competition from iPhone.
80% iPhone Market Share Coming to Verizon?
AT&T offers the free iPhone 3GS, a GSM only phone that Verizon doesn't offer. So, perhaps that 25% higher iPhone market share on AT&T is due to the iPhone 3GS?
I expect that iPhone's share of Verizon sales will increase even further when the iPhone 5 is released (probably end of this year). That's when Apple would be selling iPhone 5, iPhone 4S, and free iPhone 4 on Verizon, perhaps for a 80% Android killing market share.

Related Posts