Newt Gingrich: Kids as Janitors (iPhone App Auto-Tune)
This funny political satire video is a promo for Songify iPhone app.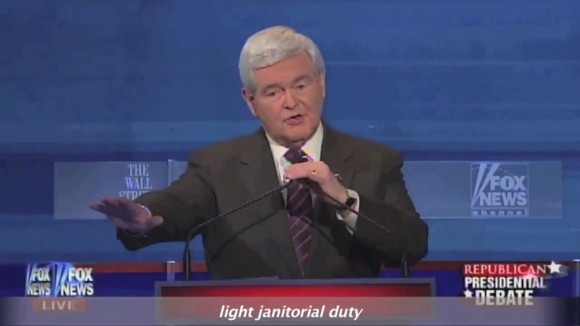 Video: Auto-Tune the News & Newt Gingrich
The auto-tune the news video features 2012 Presidential Candidate Vermin Supreme, Newt Gingrich, and Republican candidate debates. Created by the Gregory Brothers.
Songify [App Store] is a free download for iPhone and iPod touch. Also works on iPad in x2 mode. Previously they made "can't hug every cat" promo.
Vermin Supreme is a performance artist, but Newt Gingrich actually proposed using kids from low-income families to replace public school janitors and other employees. Gingrich spilled his unusual proposal on the January 16 Republican presidential primary debate in South Carolina. New York Times:
"New York City pays their janitors an absurd amount of money because of the union. You could take one janitor and hire 30-some kids to work in the school for the price of one janitor, and those 30 kids would be a lot less likely to drop out. They would actually have money in their pocket. They'd learn to show up for work. They could do light janitorial duty. They could work in the cafeteria. They could work in the front office. They could work in the library. They'd be getting money, which is a good thing if you're poor. Only the elites despise earning money." – Newt Gingrinch
Wow. Paying kids 1/30 the wage of an adult? Perhaps Gingrich doesn't understand the concept of minimum wage or child labor?

Related Posts