New Year Resolutions from Silicon Valley & Beyond
2012 New Years Resolutions from Tim Cook, Mark Zuckerberg, Apple TV, Android, RIM, HP, Twitter, Netflix, and more.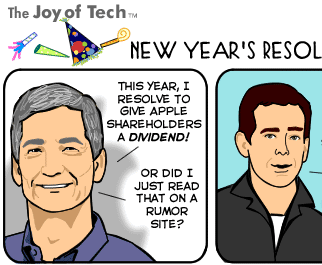 By Joy of Tech. In 2012, will the Apple CEO Tim Cook talks of rumored shareholder's dividend (probably not). Will Google begin selling identities? But at least Android will still continue to "see" what Apple resolves in the mobile device industry first.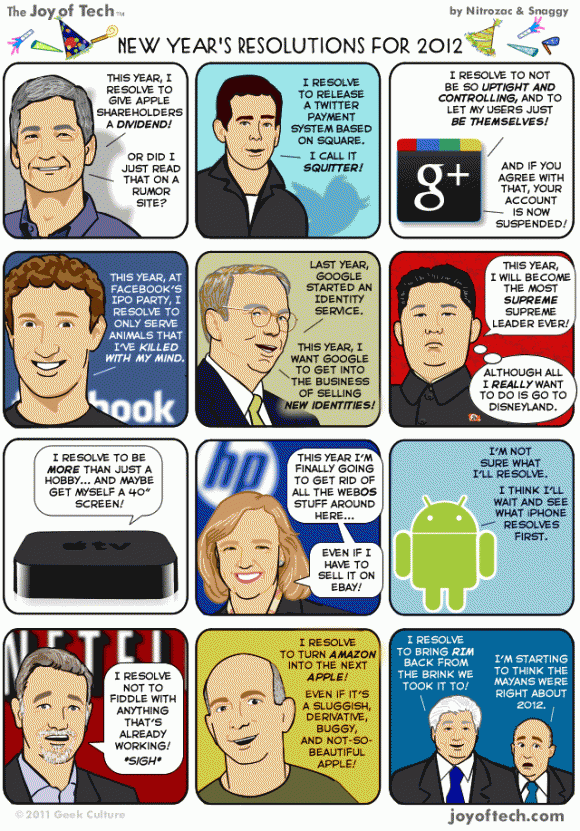 What about HP? HP couldn't sell WebOS, even on eBay, so HP had to give the $1.2 billion acquisition away. One big tech company missing on the comic is Microsoft. North Korea's new leader Kim Jong-un seems to have taken the place of Steve Ballmer. At least people will be more likely to listen to Kim Jong-un than Ballmer.
But how good is their track record? Check out their 2011 new year's resolution comic. They got the Android part right! "I resolve to continue to follow my three laws of Android Robotics. #1. Copy Apple. #2 Do not grievously harm Apple, in order to preserve our idea generator. $3 Goto #1."

Related Posts