Navy Seals Use this Waterproof iPad Bag
These waterproof iPad bags are perfect for the bath or special ops.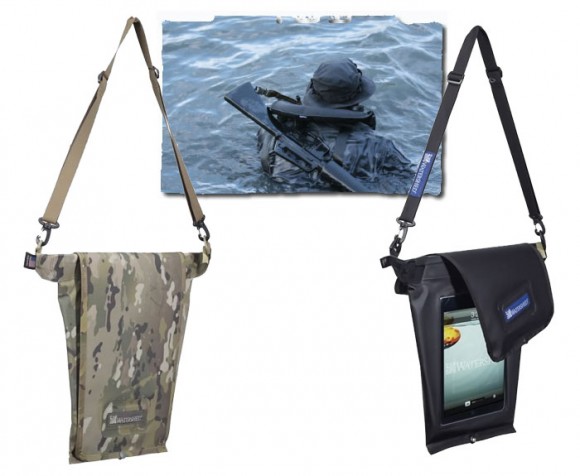 North Carolina based Watershed Dry Bags has been making waterproof bags for 16 years. And they made a waterproof iPad bag called Grid Tablet used by the Navy Seals.
Cult of Mac reports from iWorld (formerly MacWorld):
"The Navy Seals uses a camouflage version of the Grid Tablet, said WaterShed's Justyn Thompson. The Seals are asking Watershed to design a special security strap system for the iPad, which will allow them to strap the device to soldier's bodies or vehicles and keep it secure. They want another feature too, but Thompson said its a secret. He's working on a prototype."
Features of the $97 Grid Tablet bag:
iPad is usable through window while being protected in the waterproof bag
Buttoned down flap that covers the window
Withstands depths of 300 feet
Can be filled with air to give it buoyancy
Tapered with larger opening on top for easy iPad insertion
Detachable shoulder strap
Colors: Black, Blue, Clear, Alpha Green, Red, Yellow & camouflage.
WaterShed also makes airtight, submersible storage backpacks, duffel bags, and bag liners. A number of them are available under $100 [Amazon
].

Related Posts