Mixel: Free iPad Collage App [Review]
Elegant iPad collage making app with support for seemingly unlimited layers.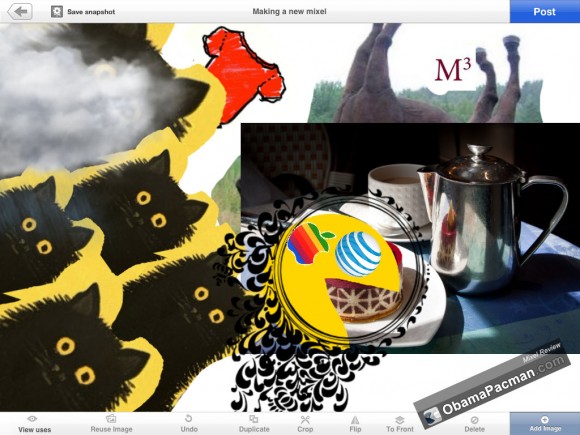 Image created with Mixel by designer Maria. Cats and a few elements were reused from other Mixels. Black cat originally posted by Akira Hashiguchi on Mixel, but no info is available about whether Akira is its original author.
Video: Make Collages with Mixel iPad App
Mixel is free on [App Store].
Previously it required facebook to use. With Mixel version 1.2 released on December 28 anyone can use the app right away with no account. Collages with layers can be saved the app, or save to camera roll as image without layers. To post your work to the Mixel community or to comment requires registration.
Like:
Intuitive Multi-touch zoom, crop, rotate. Way better and faster than using a mouse. Provides a fairly good control over the selected layer without need to know photoshop.
Cropping image with finger provides good balance of super easy and control by drawing an outline to crop.
Layers supports GIF or PNG with transparency (but you can't change the transparency of an existing image)
You can reproduce and edit other people's posted work, accessing every layer element in their work. (Posting your work is optional).
If you shared an element, you can see where it's being used.
Areas for improvement:
Web image search is limited. No flickr support.
NO OPTION TO CREDIT image source, (web search does not show any text with credit either)
No freehand drawing (no Super Mario castle), but people bypass this by cutting a shape from photos or images.
Cropping needs improvement. There is no zoom, and you need to make outline in one continuous line (you cannot modify or add / deduct from existing selection).
Verdict? Mixel is an intuitive app to make collages on the iPad. It is free for iPad users, so definitely give it a try!

Related Posts