Page Turner: Joseph Herscher Faked a Falling Mac Doing the Physically Impossible
Interesting newspaper page turner Rube Goldberg machine by Joseph Herscher featured on New York Times is partly faked.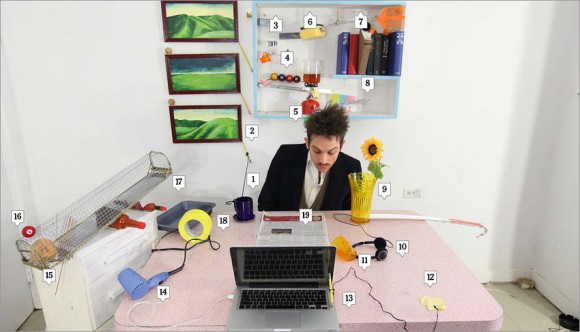 Video: Page-Turner Rube Goldberg Machine
Joseph Herscher builds Rube Goldberg Machines in Williamsburg, Brooklyn New York. This video shows how to turn a newspaper page with his latest impractically complex machine that includes a hampster!
It seems to work great, but we found that Herscher had to fake part of the machine. Here are the steps in question:
(12) and yanks a pencil in the computer
(13). The screen shuts and the computer falls off the table
Joseph Herscher partly faked Page Turner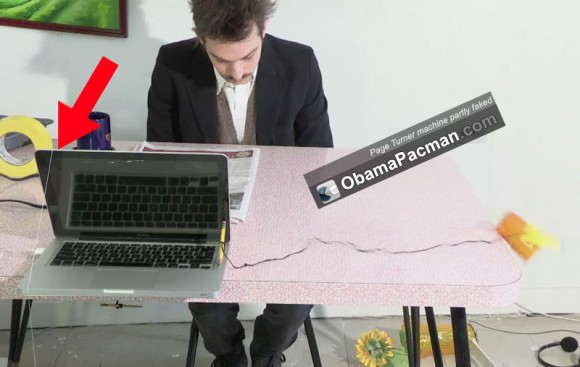 Herscher used an unibody MacBook Pro as the computer, ignoring the reality:
A Mac laptop screen will not close by itself. Normally, taking away such a pencil as shown won't make the screen fall down
Because of Apple's design of balanced weight distribution, a Mac will not fall due to screen closing – not the way it's set up anyway, where 2/3 of the computer is on the table. Maybe if 51% of the computer is on the edge, but not the way it's shown.
The video shows Visible white string used to fake the screen closing and falling. Makes me wonder what else Herscher faked? Did New York Times get pwned?
Machine description + video interview on New York Times
via "God, just train a pet like a normal person" by Geekologie.

Related Posts