Jailbreak A5 iPhone 4S + iPad 2 iOS 5 & 5.0.1 Untethered with Absinthe
Finally. This iOS 5.0 and iOS 5.0.1 jailbreak tool is Mac only at this time, Windows version coming later.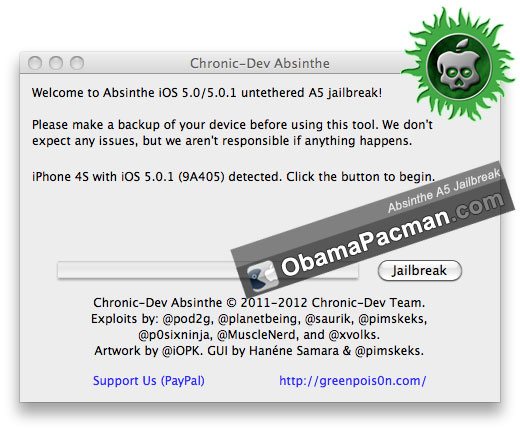 Teased earlier by @pod2g in the iPhone 4S jailbreak video, @P0sixninja released the highly anticipated jailbreak that uses Corona. Here's his post about it.
Download Greenpois0n Absinthe iOS 5.0.1 A5 Jailbreak
For both iOS 5 and iOS 5.0.1. How to use:
UPDATE: now version 4 (February 2012)
The process takes about 15 minutes. First, if your iPhone 4S or iPad 2 screens are full of apps, make a space for an app.
Download Absinthe A5 jailbreak tool, 10MB for Mac (Windows version available later)
Download Absinthe using links above
Backup iPhone
Launch Absinthe, and click "Jailbreak"
I waited about 5 to 10 minutes for it to install "jailbreak" app on the iPhone
Click the app and it will install the untethered jailbreak. Enjoy!
Absinthe requires contacting Greenpois0n server to trigger the jailbreak, so if the server was down you can't perform the jailbreak. @p0sixninja is working to solve it.

Camera Roll Empty After Jailbreak?
@planetbeing: "Camera roll will be empty if the jailbreak is incomplete. Rerun the app once to fix, and then another time to complete jb."
iPhone 4S Software Unlock
If you don't have a carrier unlocked iPhone 4S, you might want to keep your iPhone 4S in software unlockable condition in case of international travels:
iOS 5.0 users should stay with it
iOS 5.0.1 (9A405) users should stay with it (Baseband / Modem Firmware 1.0.13)
iOS 5.0.1 (9A406) users should revert to 9A405 version of 5.0.1 right now because Apple is still signing both versions of iOS 5.0.1 at this time. That allows baseband downgrade to a "safer" 4S unlock BB / Modem Firmware. Guide coming soon.
You can find your version number by going into iPhone
Settings > General > About, and look at Version
There is no iPhone 4S unlock right now, but if you stay with the recommended iPhone 4S baseband you have a much higher chance of getting software carrier iPhone unlock.

Related Posts