Google Search Ranks Google+ Stolen Content Higher than Original Article
Will the monopoly search company mess up the internet?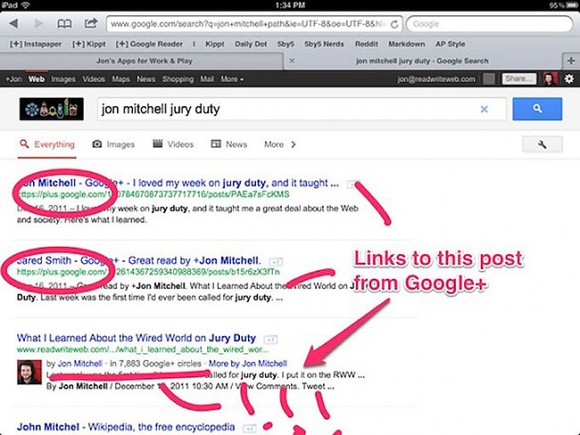 So much for Google's promise of providing relevant search results with "best" result first. What happens when someone popular on Google+ re-shared a plagiarized and unattributed post? In "Google+ Is Going To Mess Up The Internet", iPad user Jon Mitchell from Read Write Web noticed yesterday of problems with Google Plus:
Someone (self proclaimed "technology evangelist" Rohit) stole his content and posted on Google+ without a link to the original article
Google Search ranked copied content from Google+ higher than the original article
Mitchell realized how Google promotes its own services now:
Google+ is the new SEO. Just look at what it's done to Google News. In the name of highlighting authors, it now pulls in Google+ profiles. It doesn't let the author choose, say, her own website as her profile. If she wants a clickable, personal link on Google News, she has to use Google+.
That's pretty low way to forcing G+ on users.
Google+ Undermines Content Creators
How does the Google social network compare to Tumblr or spam blogs, which are typically penalized for duplicate content by Google Search?
In a Hacker News discussion, Shortformblog wrote about the plagiarizers:
All the big tech sites have this problem. The difference with G+ is, Google seems to enable these copy-wholesale types better by giving them strong positions in search results.
Aaronwall explained the deeper issue:
The core issue isn't just how one free Google service interacts with another free Google service, but how when combined they undermine the copyright & revenue potential for a content creator by displacing that person's work with Google's copy of that person's work.
No wonder both US and European regulators are conducting antitrust investigations into Google.

Related Posts