Future Computer Input: Tobii Visual Gaze Technology
I remember well over ten years ago telling my PC friends that someday that Apple would create a Mac that you could control simply with your eyes.
Guess what?
I was both right and wrong!
I was right because, as you can see in the video above, Tobii's Gaze technology does essentially what I envisioned, but I was wrong because it's running not on a Mac, but rather on a Windows 8 PC, who's Metro interface Tobii says is perfect for such software.
No, you can't control everything simply with your eyes, you have to also use finger gestures to go along with Gaze, but nonetheless Gaze is amazing to say the least.
Will it be adapted, however, for use with other OS's?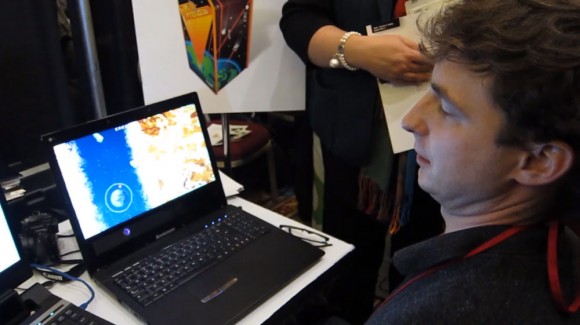 That I don't know, but I sure would like to see it incorporated into OS X someday, and if Apple, with its piles and piles of cash, ever wants to make an acquisition, then I suggest that they start with Tobii because I would absolutely hate to see Google or Microsoft snap it up and deny Apple the chance to use it.
According to Gizmodo's Casey Chan, the system really works well, and in a post entitled, "I Just Controlled Windows 8 With My Eyes And It Made Me Believe In Technology Again" Casey stated:
"'Tobii is as amazing as multitouch once was, as impressive as the Wii once was and the Kinect is now, and a natural evolution of "the future". I felt like I was using fairy tale tech in a generation defining sci-fi movie, rather than sitting in a plastic chair next to smelly people in a hall riddled with crappy gadgets that have no reason to exist. I don't know how successful Tobii will be in the mainstream market but it's this kind of technology that reminds me why I loved technology in the first place."
I haven't tried it, but Tobii's Gaze technology is just what I envisioned what a Mac could become in the future, and the only thing that I can think of that would be better than Gaze's eye-tracking technology would be technology that could virtually read your brain waves, thus allowing you to control everything simply by thinking of what you wanted to do.
In the meantime, while we are all waiting for 'thought control' to come to pass, I can see a combination of multi-touch, gesture motioning and Siri like voice control bringing today's technology to the point that it match's, more-or-less, the future technology that we've been seeing in science fiction movies such as Star Wars or Star Trek!
OP Editor's Note: Here's Tobii's website.

Related Posts