Five Million Reasons On Why Not To Buy An Android Device
Besides the many problems associated with Android's much publicized fragmentation issues (2010 October / 2011 May / 2011 October / 2012 January), an even bigger problem with Android is its increasingly bad state of affairs when it comes to security, or should I say its lack there of?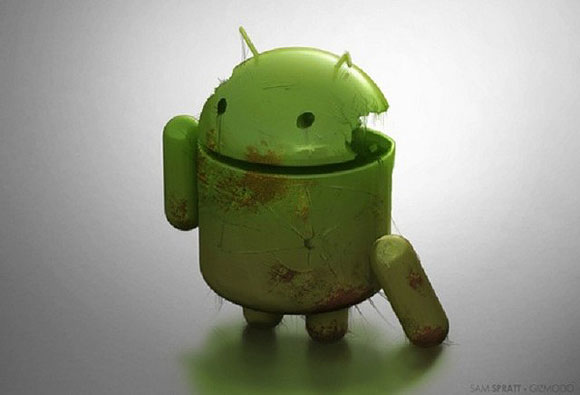 It is now being reported that as many as five million more Android devices may have been infected with malicious code.  The security firm Symantec has written that it:
"Symantec has identified multiple publisher IDs on the Android Market that are being used to push out Android.Counterclank. This is a minor modification of Android.Tonclank, a bot-like threat that can receive commands to carry out certain actions, as well as steal information from the device."
Now that my friends is not good, not good at all. Seems that even though Android may have been able to copy a host of features, as well as the basic look-and-feel from that of the iPhone, it hasn't been able to copy the iPhone's excellent security, and security made possible only because of its so-called 'walled garden' approach that helps to keep out all of those nasty little baddies in the first place, and all those little nasties that people experience with Android devices all the time, but don't enjoy one little bit. The latest nasties where found in several official Android marketplaces such as those from iApps7 and Ogre Games.
Symantec is calling this the biggest Android malware outbreak to date, and they list the 13 following plagued apps, which have been distributed for over a one month periods:
iApps7 Inc: Counter Elite Force
iApps7 Inc: Counter Strike Ground Force
iApps7 Inc: CounterStrike Hit Enemy
iApps7 Inc: Heart Live Wallpaper
iApps7 Inc: Hit Counter Terrorist
iApps7 Inc: Stripper Touch girl
Ogre Games: Balloon Game
Ogre Games: Deal & Be Millionaire
Ogre Games: Wild Man
redmicapps: Pretty women lingerie puzzle
redmicapps: Sexy Girls Photo Game
redmicapps: Sexy Girls Puzzle
redmicapps: Sexy Women Puzzle
So, I guess that if you ever wanted a reason on why not to buy an Android device, well you can now add at least five million more! However, on-the-other-hand,  if you simply want something better, something a with lot more security, but no fragmentation, than I guess there's always the iPhone!
Image by Sam Spratt via: Uberphones.com
OP Editor: "Counter Elite Force" on Android Market seems to be a rip off or "Elite Force" (or vice versa). One screenshot of each game shows something like Counter Strike. However, additional screenshots shows how crappy these Android games are even if they don't contain malware.

Related Posts