Orange-Hatted Scalper Army Invaded Shanghai Apple Store iPhone 4S Launch Lines
Even Apple can't repel invasion of this magnitude.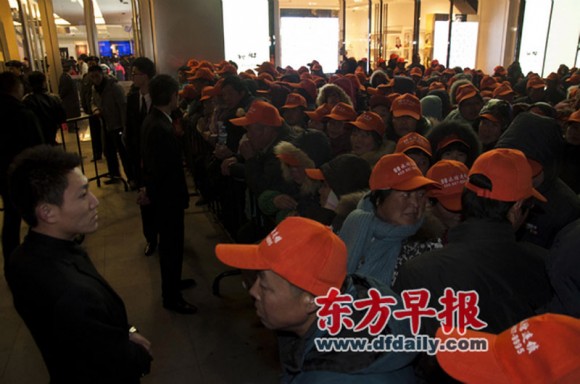 Macenstein reporter Min noted:
"This is the craziest iPhone first-day-sell-lining-up event I have ever seen in the world."
This week, one group of scalpers herded 500 people in 11 buses to line up for the iPhone 4S China launch. Wearing orange hats and consisting of most of elderly, army of scalpers arrived around 8PM to wait almost 12 hours in the cold for the 7AM launch.
This took place at Apple Store, Hong Kong Plaza at Huaihai Zhong Road, Shanghai.
This group of scalpers were planning buy up all the unlocked iPhone 4S supply and planning to make about 500RMB (about 78$) per phone.
In China, the average income is $3920 USD per person in 2010 (estimated by wolframalpha), or about $11 per day. So, assuming the scalpers pay about $20 per person to wait in line (probably less if the line holders were bused in from the country side), this group of 500 people buying 2 iPhone each would earn the scalpers $58,000 income.
No wonder the scalpers are everywhere in China's iPhone 4S launch causing trouble at some stores.
Image from dfdaily, which has a Chinese account of it (Engrish machine translation).

Related Posts