Apple Unveils iBooks 2 at Guggenheim with $15 Interactive Textbooks
Major textbook publishers are onboard. High school books $14.99 OR LESS!
Apple introduced iBook 2 at the Guggenheim:
Interactive books with, 3D models, videos, multi-touch
Portrait / landscape layout
Easy table of content, glossary, and linked articles
Interactive review questions
$15 for high school books
Available later today on the App Store. Seems to be modeled after the highly rated Al Gore's iPad exclusive interactive book, "Our Choice".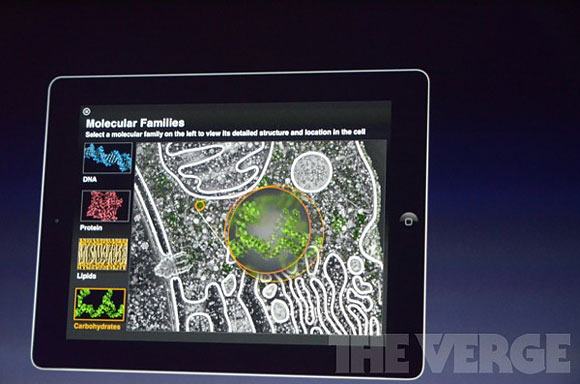 Light weight. Better than the traditional textbooks made from trees: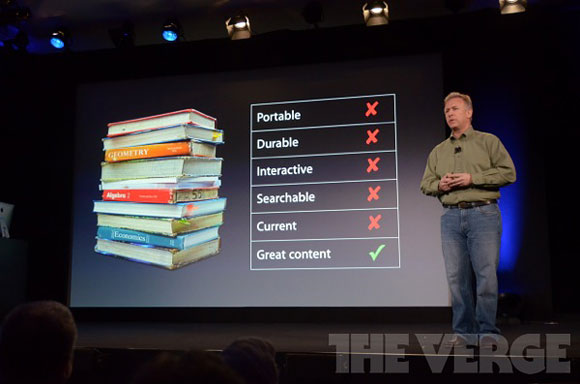 Publisher Support of iBooks Textbooks
Like the 2003 iTunes Music Store launch with music label support, Apple's 2012 iBooks textbook launch has support from a number of publishers. Some have been working with Apple since 2010 launch of iPad and the original iBooks App for iOS:
McGraw-Hill: Algebra, Biology, Chemistry books, etc.
Houghton Mifflin Harcourt
E.O Wilson Biodiversity Foundation
Pearson PLC
DK publishing: Kid's booksFirst chapters of "Life on Earth" are available now, for free.
via Verge

Related Posts